Hillary Clinton Takes Aim At The Financial Sector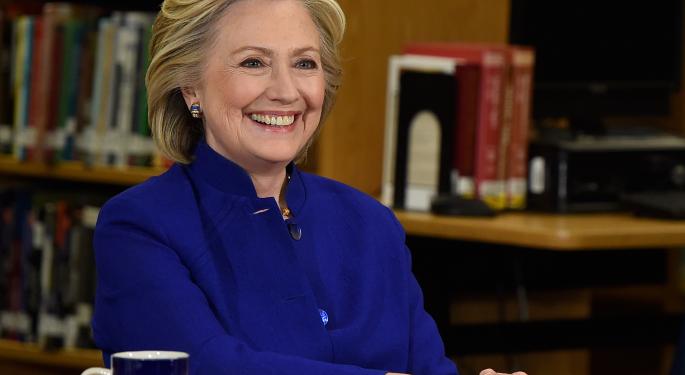 This week, Presidential hopeful Hillary Clinton announced she was planning to release a proposal to reform the financial sector by taxing high-frequency traders. Clinton's decision to make Wall Street reform a priority comes as her biggest competition, Bernie Sanders, has been gaining momentum on a platform based on righting income equality and tightening regulations on Wall Street.
However, many wonder if Clinton's proposal will be enough to win back progressive Democrats while still keeping moderates happy.
The Proposal
Clinton has said her strategy to rein in Wall Street is to attack risk. On Thursday, she revealed plans that will crack down on misconduct and penalize risk-takers. One such proposal is an increased tax on excessive cancellations of buy and sell orders, something which targets high-frequency traders. She is also planning to take harsher action against those convicted of financial crimes.
Related Link: How Every Presidential Candidate Wants To Change The Economy
Is It Enough?
Many progressive democrats believe that more action needs to be taken in order to hold Wall Street accountable. People in that camp are calling for the restoration of Glass-Steagall, a rule that separates investment banks from traditional banks. Clinton has defended her husband's repeal of the rule, but many of her Democratic contenders have promised to reinstate that divide if elected.
Critics Frown On Plan
Critics of Clinton's financial reform plans say they could have dire consequences on the already fragile market. Many worry that increasing fees on high-frequency trades will make the cost of participating in share markets higher on the whole, and others argue that high frequency traders are responsible for much of the market's technological advancement.
Posted-In: Bernie Sanders high-frequency traders Hillary ClintonNews Politics General Best of Benzinga
View Comments and Join the Discussion!