Greek Shippers Look For Better Deals Abroad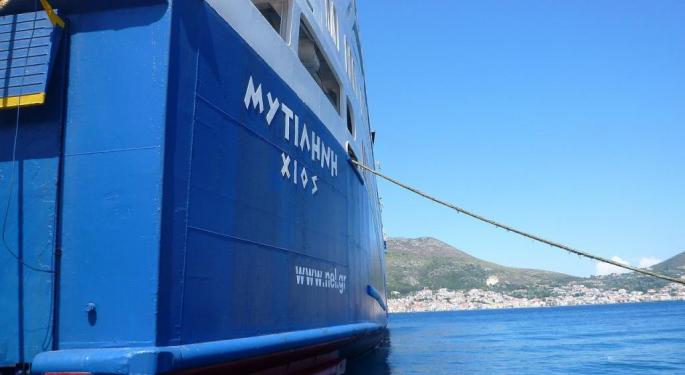 Greece's Syriza-led government is caught between a rock and a hard place now that it has agreed to EU mandated spending cuts in order to continue receiving its bailout payments.
On one hand, Athens would be unable to stay afloat without continued financing from its EU creditors. However, the terms of its bailout deal threaten to completely alienate one of the nation's largest industries, something that could weigh heavily on Greece's economic output.
Shipping Changes
Greek shipping firms are not happy about Athens' plans to raise taxes on their operations, and in response to the new rules, they are threatening to take their businesses elsewhere. Home to the largest shipping industry in the world, Greece has long been a haven for shipping firms as relaxed tax laws meant they were able to retain a large portion of their earnings. However, new rules would raise Greek taxes on shippers, making the eurozone nation a less desirable place for the firms to operate.
Related Link: Syriza Returns To Power In Greece
No Compromise
In the spirit of compromise, Greek shipping firms have agreed to double their tonnage tax for the next two years, but the nation's creditors say that won't be enough. Instead, the terms of Greece's bailout call for shipping firms to increase tonnage tax incrementally as well as apply taxes to all shipping operations including their profits and the funds earned from ship sales. In the past, none of these operations were subject to taxes.
Looking For A Better Deal
In response to the new tax proposal, the nation's shipping companies are threatening to move their operations to places like Cyprus or London, which boast lower tax regimes and have been working to entice Greek shippers to change location. As Greece's shipping industry makes up about 7 percent of the nation's economic output, a mass exodus could do significant damage to the nation's recovery. Greek officials have been desperately searching for ways to make up for its budget shortfalls without imposing taxes on the shipping sector, but so far their efforts have been fruitless.
Image Credit: Public Domain
View Comments and Join the Discussion!
Posted-In: Greece Greek ShippersNews Eurozone Politics Global Markets General Best of Benzinga