What To Expect From Xi Jinping's Visit To The US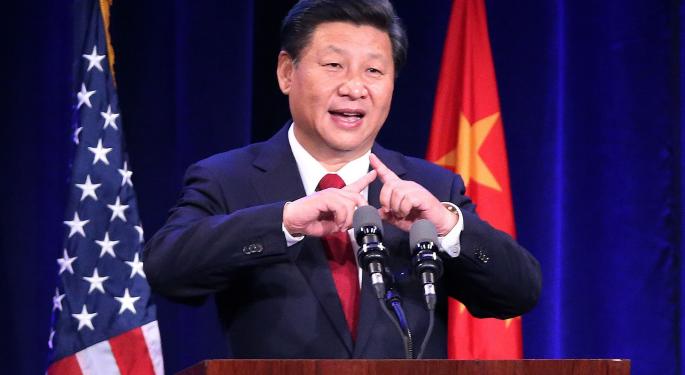 Chinese President Xi Jinping is scheduled to begin a one week visit to the United States. The visit has been heavily anticipated by markets as relations between the US and China have been fraying over the past year.
Jinping's trip is intended to smooth over tension between the two as issues like cybersecurity and the global economy weigh on their political relationship. In preparation for the visit, President Barack Obama and his cabinet have been working to come up with talking points that can be addressed in face-to-face discussions.
U.S. Corporations In China
One of the biggest struggles the US has had with China is Beijing's treatment of foreign firms. Many U.S. companies claim they are treated unfairly in China with regulators scrutinizing their every move and giving breaks to domestic competitors. Discussions on this matter between U.S. and Chinese government officials have proven fruitless in the past, so during Jinping's visit Obama plans to confront the issue head on.
The Obama administration has called on U.S. firms that operate in China to bring up the challenges they face directly during a meeting in Washington. Jinping is set to sit down with some of the US' top business leaders as well as Commerce Secretary Penny Pritzker in order to discuss the obstacles U.S. firms face when operating in China in hopes of finding a resolution.
Related Link: China May Determine Outcome Of 'Sell Rosh Hashanah, Buy Yom Kippur' Strategy
Market Transparency
Another hot topic that U.S. officials plan to discuss with Jinping is Beijing's interference with the nation's financial markets. The stock market turmoil that resulted from China's efforts to keep its financial system afloat was detrimental to the global economy as a whole, and many believe that the strict regulations that Beijing enforced in order to stem the market's slide underscored the Chinese government's unwillingness to allow market forces to drive the economy.
China has pledged to make its markets more attractive to foreign investors, but this summer's episode has raised questions about just how open Beijing's market really is.
Cybersecurity
Obama is also expected to broach the matter of cybersecurity with the Chinese president, as allegations of Chinese-based hacking attacks and spying campaigns have cropped up throughout the year. Although China has denied any involvement in the high-profile hacking attacks on U.S. corporations and government computer systems, U.S. officials have been skeptical, saying that evidence suggests that Beijing is behind some of the attacks.
Posted-In: China Xi JinpingNews Politics Global Top Stories Markets General Best of Benzinga
View Comments and Join the Discussion!