Is Snoop Dogg's Marijuana Platform Good For The Industry?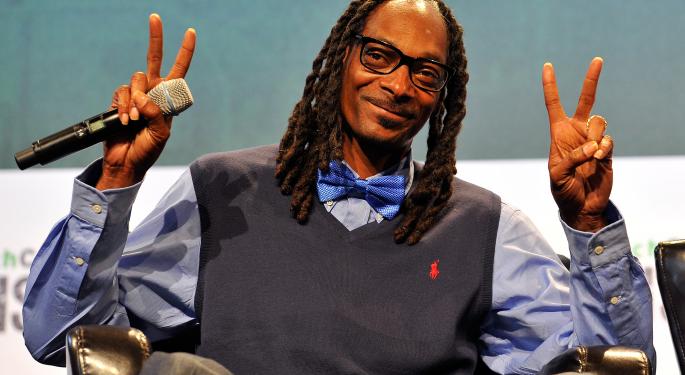 Snoop Dogg's persona has long been synonymous with marijuana as the 43-year-old has always been open about his drug use, even before the drug became legal. However, with the marijuana industry growing rapidly and many trying to spread awareness of the drug's medical benefits, some wonder if icons like Snoop Dogg are good for the industry.
Merry Jane
On Monday, Snoop Dogg announced plans to create a pot-lifestyle platform called Merry Jane. The site will include news and information about marijuana and is intended to give marijuana enthusiasts a dedicated place to share and read about their hobby. When describing the website, Snoop Dogg said he intends to include cooking tutorials, celebrity appearances and even business advice for gangaprenuers.
Related Link: Marijuana Posts A Major Win On The Campaign Trail
A Good Move?
While Snoop's website will likely appeal to a large number of the nation's pot users, some worry that it sends the wrong message at a time when marijuana needs to be taken seriously.
With the 2016 elections coming up, many in the marijuana industry are worried about how a change to the administration could affect their business. Some of the candidates have pledged to reverse decisions regarding pot laws, while others have said they are uncertain about relaxing cannabis laws at a federal level. In order for the marijuana industry to continue growing, federal laws labeling marijuana as a dangerous, criminal substance need to change.
One argument for marijuana has been widespread acceptance as more and more people come out in support of the drug. That acceptance has changed the portrait of an average pot smoker from a teenage burnout to an elderly pain patient or a working professional. Such shifts in perception are necessary, some say, in order to convince policy-makers in Washington to take the drug seriously.
Posted-In: marijuana Merry Jane Snoop DoggTop Stories Markets Best of Benzinga
View Comments and Join the Discussion!