LEED And Green Construction Are Driving The Economy In Major Ways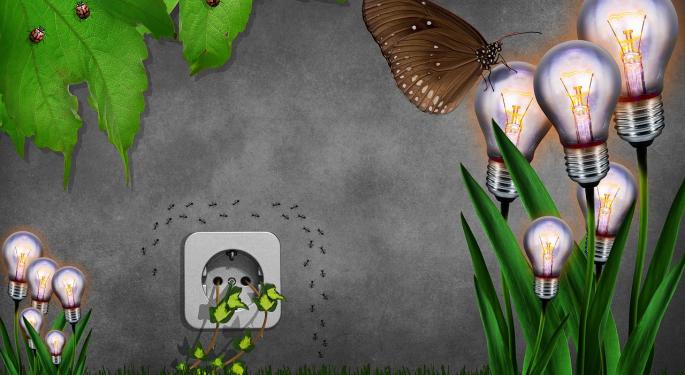 LEED and green construction will provide U.S. workers with $134.3 billion in income in 2015.
Green construction is expected to grow America's gross domestic product (GDP) by $303.5 billion over the next four years.
Marisa Long, communication director of the U.S. Green Building Council (USGBC), noted the industry would create 2.3 million jobs in the United States this year alone.
As the USGBC says, "The 'green' is in the 'green.'"
USGBC's Marisa Long spoke with Benzinga about the council's recently released 2015 Green Building Economic Impact Study and what the study found about the impact of green construction on the economic picture in America.
Related Link: Windsor Marketing Group Advances Sustainability Model through USGBC
Benzinga: Tell us a little about the USGBC's impact study and what it revealed.
Marisa Long: The U.S. Green Building Council study found just how much of an impact green construction is having here in the United States.
More specifically, what we found is that 2.3 million jobs are being created here in the U.S. just this year for green construction.
These are architects, designers, engineers, electricians – many good-paying jobs that are putting more than $134 billion in wages into U.S. worker's pockets.
BZ: Terrific. So, talk about what makes a building "green."
ML: Green buildings are built to save water, resources, energy and money.
Our study also looked at LEED (Leadership in Energy and Environmental Design) certification. The USGBC established the LEED green building rating system as a way to certify projects that are leading the way in energy efficiency and environmental design.
BZ: How do you see these trends in green building and the positive impact they are having on employment moving forward?
ML: Green construction is slated for expansive growth over the next four years. Our study found that green construction would actually be responsible for more than a third of all construction jobs by 2018.
That jobs number is going to go from 2.3 million to more than 3.3 million U.S. jobs by 2018. We also found something interesting with regard to energy savings.
The energy savings for green construction over the next four years will equal more than $2.4 billion, and about half of those savings will come from LEED-certified projects.
BZ: So, energy savings obviously makes a lot of sense. What, besides energy savings or the potential for that, is driving the growth in green building?
ML: There are many factors, but there's definitely a lot of consumer demand for green construction. Parents, teachers and workers all want to go to work every day in a building where they can breathe healthier air.
They want to send their kids to schools where they have natural sunlight and outdoor space. That's one of the biggest factors.
Another factor is the fact that developers, owners and investors are building LEED buildings and green buildings because (those buildings) save money and are better for the bottom line.
BZ: What about at the state level? Is green building driving economic growth at that level within individual states?
ML: Yeah. By 2018, total state earnings related to LEED building construction specifically are going to total about $8.4 billion.
We see state work in green construction growing. If you want to take a further look at our study, you can go to our website at www.usgbc.org and download the study free.
You can look up individual state numbers for the next four years, and see where your state ranks on the list.
Related Link: Abengoa's headquarters, Campus Palmas Altas, becomes a global benchmark after obtaining LEED Platinum certification
BZ: Is the website also a place to go for people who want to learn more about green building in general?
ML: Definitely. On our website, you can learn more about the LEED green building rating system, the U.S. Green Building Council, all of our programs and, of course, you can download the study free.
At the time of this writing, Jim Probasco had no position in any mentioned securities.
Image Credit: Public Domain
View Comments and Join the Discussion!
Posted-In: GDP Green construction LEEDTopics Top Stories Exclusives Interview General Best of Benzinga