Yellen: Fed Doesn't React To Markets, Forgets Her Own Social Media Valuations Warning
In Thursday's afternoon press conference, Fed Chair Janet Yellen said "we don't want to respond to markets" when asked about her views of U.S. equity markets. Maybe they don't want to "respond" to markets, but as pointed out over the weekend, the Central Banks of the world are incentivized to buy and sell CME S&P 500 futures assets.
Recall in June when the Chairwoman said social media and biotechnology industry valuations appeared "substantially stretched" in the Fed's semi-annual report. And who could forget the impact of those early morning and mid-day comments received from the Fed's James Bullard.
The following chart from Zero Hedge noted in November 2014 the market impact of Bullard's comments and said to wit:
"...Bullard has become the punchline of every financial joke, as it has become far too obvious that the Fed will never allow even a regular 10% correction (October 15 halted the closing market drop at just under 10%)."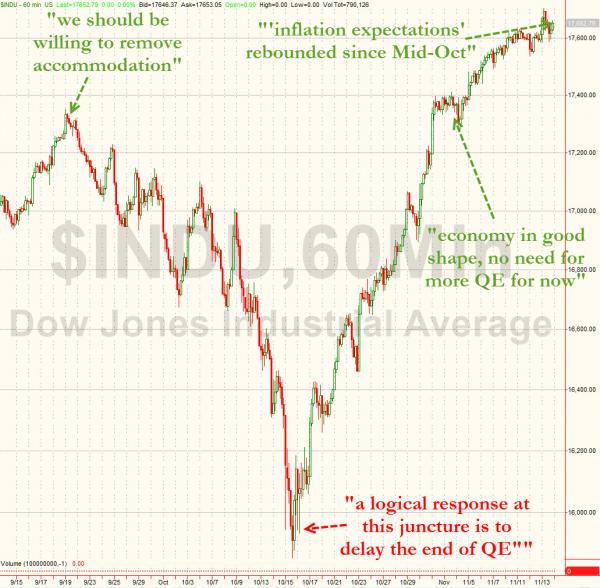 So maybe the Fed does not "respond" to equity markets, but they clearly drive equity markets and control them through influence.
Posted-In: FOMC Janet YellenNews Economics Federal Reserve
View Comments and Join the Discussion!