Alibaba VP: Here's Why Barron's Is Wrong About Our Stock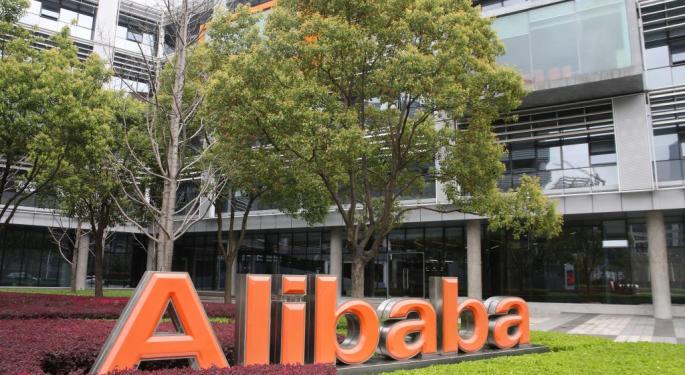 Shares of Alibaba Group Holding Ltd (NYSE: BABA) were lower by 3 percent Monday morning.
Barron's published an article over the weekend stating shares of Alibaba could fall an additional 50 percent.
Alibaba responded in a five-page retort, noting Barron's articled lacked "integrity, professionalism and fair play."
Shares of Alibaba were trading lower on Monday in reaction to a Barron's article which argued the stock could see an additional 50 percent decline.
Barron's main thesis consisted of the fact that the stock is trading at a 25x consensus earnings for the year ahead, a hefty premium to eBay Inc (NASDAQ: EBAY)'s 15 multiple. The article prompted a response from Jim Wilkinson, Senior Vice President and Head of International Corporate Affairs for Alibaba to respond in a letter.
According to Wilkinson, Barron's article contains "factual inaccuracies" and "selective use of information" to draw "misleading" conclusions.
Here is a summary of several of the key points in the letter.
Inaccurate Valuation Comparisons, Questionable Market Share Loss Claims
According to Wilkinson, Alibaba's PE multiple on analysts' consensus for the year ahead is approximately 20x – not the 25x the article referred to which was based on 2015 consensus estimates. Moreover, comparing Alibaba's multiple to eBay is "flawed" because eBay does not operate in China. Accordingly, a "more relevant" comparison would be Tencent and Baidu Inc (ADR) (NASDAQ: BIDU) which trade at 31x and 24x, respectively.
Related Link: Bob Peck: Barron's Is Wrong, Alibaba Worth $100
Barron's also noted that Alibaba's competitors are "eating into the market shares" of Alibaba. The article cited a study by a Financial Times research service of online shoppers. In response, Alibaba's executive pointed out that the study relied on a "limited" number of responding while the methodology has not been disclosed. In addition, Taobao and Tmall maintain a "unrivaled leadership position" in China, with Alibaba's market share nearly twice those of its closest peer, according to iResearch.
Barron's Demonstrated A 'Lack Of Understanding' Company Strategies
Barron's further argued that many of Alibaba's investments in media, entertainment, logistics and cloud appear to be "aimed more at beguiling investors than improving earnings."
Wilkinson responded by arguing that Alibaba's strategy consists of improving the overall customer experience, which includes areas such as logistics, while its investments in cloud computing is no different from Amazon.com, Inc. (NASDAQ: AMZN) which has a "large and growing" cloud computing business of its own.
Meanwhile, media and entertainment is a "new business" for Alibaba that is in the early stages of development. The market is typically "much smaller" than the United States but the company has already "clearly communicated" its objectives and that losses in the early cycle of the business is expected.
Barron's Knockoffs Claims 'Ignores' Reality
Finally, Barron's made reference to Alibaba's "alleged failure to crack down on the sale of product knockoffs on its sites." Wilkinson argued that these allegations aren't specific to Alibaba and apply to all third-party platforms, including eBay and Amazon.
However, Barron's article didn't acknowledge Alibaba's "excellent progress" in intellectual property rights protection, including the company's "strict take-down procedures," and cooperative relationships with more than 1,000 brand owners and several industry associations to assist in its efforts.
View Comments and Join the Discussion!
Posted-In: Barron's Jim Wilkinson Taobao Tencent Barron'sNews Media Best of Benzinga