No, Elon Musk Can't Legally Nuke Mars – Space Lawyer Explains Why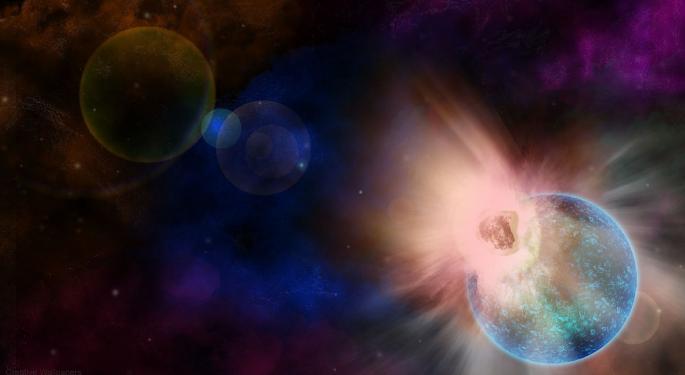 SpaceX and Tesla Motors Inc (NASDAQ: TSLA)'s Elon Musk appeared on Stephen Colbert's "Late Show" on Wednesday night, catching the anchorman and viewers by surprise when he proposed firing thermonuclear weapons at Mars to make it more Earth-like.
This may sound like a joke, but Musk was actually being serious. Mars is "a fixer-upper of a planet," he assured. There are two ways to make it more hospitable, he continued: a slow one (releasing greenhouse gases until temperatures drop) and a fast one (dropping nukes at the planet's poles).
Related Link: Now We Know Exactly How Much Tesla Stock Elon Musk Bought
Is It Legal?
Benzinga contacted Space Lawyer James E. Dunstan of Mobius Legal Group, PLLC, who provided the "Chapter and Verse" on why Elon Musk can't take a nuke to Mars.
He explained that:
UN Resolution 1884 (XVIII) (1963) called on all nations "to refrain from placing in orbit around the earth any objects carrying nuclear weapons or any other kinds of weapons of mass destruction, installing such weapons on celestial bodies, or stationing such weapons in outer space in any other manner."
The 1963 Nuclear Weapon Test Ban Treaty states that the countries involved undertake to "prohibit, prevent and not carry out any nuclear weapon test explosion, or any other nuclear explosion," even in outer space."
Article IV of the Outer Space Treaty of 1967 (OST) reiterates the countries' commitment to not place in orbit any objects carrying weapons of mass destruction (it reads the same as the UN Resolution cited above), adding that, "The Moon and other celestial bodies shall be used by all States Parties to the Treaty exclusively for peaceful purposes." In addition, Article VI of the OST "requires states to authorize and supervise the activities of their citizens and to make sure that they comply with the other provisions of the OST," Dunstan expounded.
The space lawyer continued to explicate that, in the United States, all cargoes traveling into space have to be approved by the FAA/AST. "If, in these payload reviews, it is revealed that a payload might implicate the OST, FAA/AST confers with the State Department. There is NO WAY either State or FAA/AST would grant a payload license to SpaceX to launch a nuke," he continued. "By way of example, I was involved with a private lunar effort a decade or so ago that wanted to use a RTG (Radioisotope Thermal Generator) for power. Basically a piece of plutonium, the decaying heat from which drives a power plant. We were told in no uncertain terms that we would never receive a license to launch a payload with an RTG, which is NOT an explosive device."
Although Musk may argue that Article IV only applies to States (sovereign countries), and not individuals, the OST requires said States to make sure that their citizens comply with the Treaty.
"Musk might also argue that a nuke aimed at a Martian ice cap doesn't fit within the definition of Article IV because it's: (1) not going into Earth orbit; (2) won't be 'installed' on Mars; (3) Won't be 'stationed.'" But, (1) "if the nuke is launched from Earth, it will be going into Earth orbit for some period prior to the TMI (Trans-Mars Injection burn). I'm not aware of any launch scenario that is true direct – straight from the Earth's surface to Mars. There's always staging (and usually either a Earth or Mars fly-by to gain Delta-V)," Dunstan assured.

"While points 2 and 3 do deal with the positioning or staging of nukes for potential future use, The 1963 Nuclear Test Ban Treaty makes clear that no country can explode a nuke in outer space."
To conclude, the lawyer mentioned "a far better way to melt the Martian ice caps:" deflecting an asteroid and crashing it into the planet's pole. This would provide "much more total kinetic energy than a nuke that you could launch from Earth."
Image Credit: Public Domain
Posted-In: Elon MuskNews Travel Legal Exclusives Tech Interview General Best of Benzinga
View Comments and Join the Discussion!