Fidelity May Abandon American Express. What's Wrong With AmEx?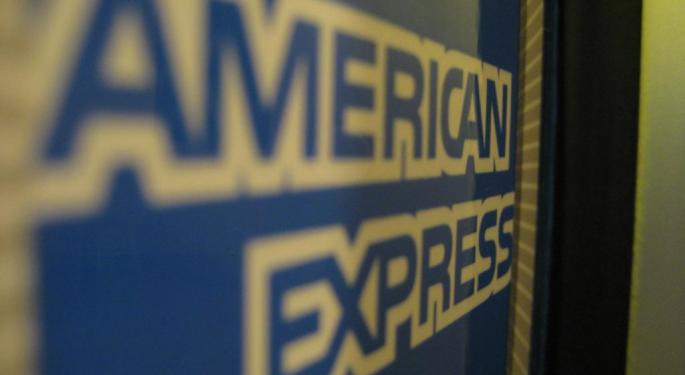 This week, Bloomberg reported that Fidelity Investments is considering dropping American Express Company (NYSE: AXP) to search for new partners. The company may bring Visa Inc (NYSE: V) or MasterCard Inc (NYSE: MA) onboard instead, something that traders see as a significant threat to American Express' growth model.
A Concern For AmEx?
American Express' Global Network Services business represents a major growth catalyst for the company, so being abandoned by Fidelity could be a blow to the firm's future plans.
The rumors about Fidelity came shortly after AmEx split from partnerships with Costco Wholesale Corporation (NASDAQ: COST) and JetBlue Airways Corporation (NASDAQ: JBLU), a worrying trend for investors. Facilitating transactions is an important part of American Express' business, and many analysts believe that the recent failed partnerships suggest that the company is facing competitive challenges.
Related Link: Baird: Mastercard's Growth 'Is A Little Bit Slower,' Next Year 'Should Have Nice Acceleration'
Bigger And Better
While the break-up rumors are concerning, things aren't all bad for the credit card company. Earlier this year, American Express revealed a new loyalty program that included partnerships with several big name retailers. Companies like AT&T, Inc. (NYSE: ATT), Macy's, Inc. (NYSE: M) and Exxon Mobil Corporation (NYSE: XOM) have signed on to AmEx's latest loyalty program, Plenti.
Plenti, though managed by American Express, allows members of the loyalty program to use any purchase, whether it's with an AmEx card or not, at a participating partner toward their loyalty points. Points accrued at one retailer can then be spent at another.
What's Next For AmEx?
While Plenti represents an opportunity for American Express, many wonder if the loyalty program is enough to offset the company's difficult year. Merchant coalitions like Plenti are generally difficult to manage as they require that none of the participating companies are competitors. That will limit the number of vendors who can participate and could make it difficult for the scheme to grow its customer base.
Image credit: Marcus Quigmire, Wikimedia
Posted-In: FidelityTop Stories Best of Benzinga
View Comments and Join the Discussion!