Hortonworks VP Says Company Is 'Constantly' Seeking M&A Opportunities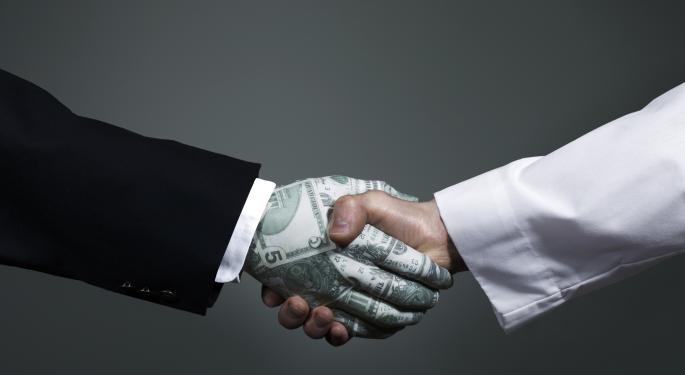 Hortonworks Inc (NASDAQ: HDP) is on a mission to acquire new talent.
Brian Marshall, vice president of corporate development, told Benzinga that the company is "constantly" seeking new M&A opportunities.
"Anything we build internally or buy externally, we give it away free to our customers that purchase support subscriptions from us," he said. "We monetize our software development and acquisition efforts through support subscription, which basically means if you run our software on a server or node for one year, you're gonna pay us X amount of dollars and we're gonna support it."
Public Debut
Hortonworks was started four years ago by Yahoo! Inc. (NASDAQ: YHOO) and Benchmark to increase the development of Hadoop. The company employed a successful open source strategy that paved the way for its public debut in December 2014.
"I think we were definitely early to go public by all stretch, but we did it for a bunch of strategic reasons, most important of which was our customers," said Marshall. "We have roughly 45 percent of the Fortune 100 as customers today. Considering our product has only been in the market for about three years, that's pretty fast uptake."
Marshall said that Hortonworks has enjoyed "great traction" in attracting clients over other pure play Hadoop distribution companies.
"As a private company, those customers did not have access and transparency into our balance sheet," he said. "They want to have visibility into our business. The number-one way to do that was to go public."
It also allowed Hortonworks to raise more growth capital. The firm is still burning money but expects to hit adjusted EBITDA (or cash flow break-even) in the early part of 2017.
"Over the next five or six quarters, we're gonna be burning some cash," said Marshall. "So while there's a variety of ways to fund that, we felt the public market was gonna be the best reason for a wide variety of strategic decisions. I would say that's the decision to go public and what it gave to our customers and what it gave to us."
Related Link: Yelp M&A Chatter: Good For Buyer, Bad For Small Businesses?
'Early Days'
With regard to how investors have responded to Hortonworks since its IPO, Marshall said the company is in its "early days" and that Hortonworks is still gaining its footing.
"I think things are moving in the right direction," said Marshall. "I would say with the media, some of the consumer-focused Internet names garner more fanfare. That doesn't necessarily mean they're going to be better-performing stocks over time. We're in the heart of enterprise datacenters. You really have to dig deep and understand that technology to figure out what Hadoop is and how Hortonworks differentiates itself."
Marshall said the company takes legacy transactional data from a relational database from companies like Oracle Corporation (NYSE: ORCL) and Microsoft Corporation (NASDAQ: MSFT) and pairs that with "the new paradigm of data."
"Then you're able to transform your company by doing that," said Marshall. "You just opened your eyes to all your data and you're able to analyze it in advanced ways and really do some pretty interesting things. This is truly a game-changing technology. If you use Hadoop in a proper fashion, you can become the leader in your industry and really have much better customer satisfaction metrics."
Disclosure: At the time of this writing, Louis Bedigian had no position in the equities mentioned in this report.
View Comments and Join the Discussion!
Posted-In: Brian Marshall Hadoop HortonworksNews Top Stories Exclusives Tech Interview Best of Benzinga