Poland's Central Bank Is Talking About Raising Interest Rates, Too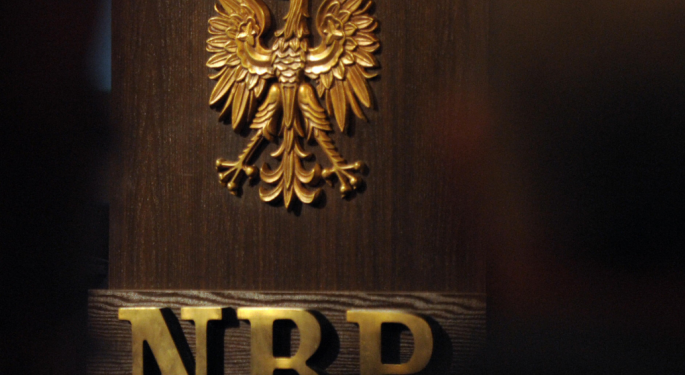 The U.S. FOMC minutes had the market's attention on Wednesday after talk of "approaching" rate hike conditions boosted gold and Treasuries. The key points of the minutes were:
The system is taking steps to prepare for the "normalization" of monetary policy.
Most Fed officials think rate hike conditions are coming, but say the labor market still has room for improvement.
In a somewhat surprising point, the FOMC said monetary policy couldn't prevent any near-term economic shocks.
Maximum unemployment could come in the near-term.
Consumer spending is expected to rise in the near-term.
Of note, Americans aren't the only ones talking about raising interest rates. The Polish Central Bank -- Narodowy Bank Polski -- released new minutes from a July 8 meeting on Thursday morning. Below are a few highlights from that central bank's commentary.
"[S]ustained growth in economic activity in the euro area was supported by a further decline in unemployment, the earlier strong depreciation of the euro and positive business and consumer sentiment."
"Good economic performance and favourable GDP forecasts for Germany – which is Poland's main trading partner – were also brought to attention."
"[T]he continuation of the euro area recovery may be jeopardised by Greece's possible default and the country's exit from the common currency area."
"In particular, employment continued to rise and unemployment was still falling. Some members of the Council emphasized, however, that employment growth in the enterprise sector had levelled off, while the nominal wage growth in the sector had slowed down in the recent period."
"[T]he risk of excessive growth in housing loans in the future would be limited by the steady tightening of macro-prudential policy as the ceiling on the LtV ratio was progressively reduced."
"[W]eak growth in food and energy prices was concealing wage pressure in the economy and increasing the current account balance...[as a result] macroeconomic imbalances could build up in the economy."
"For these reasons, it may be justified – in their opinion – to consider in the coming quarters an increase in interest rates."
The full minutes are below.
Narodowy Bank Polski -- 8 July 2015 Minutes
Posted-In: Central banking FOMC Narodowy Bank PolskiNews Eurozone Economics Federal Reserve Markets Best of Benzinga
View Comments and Join the Discussion!