Highlights From The FOMC Minutes; Yields & U.S. Dollar Fall, Gold Rises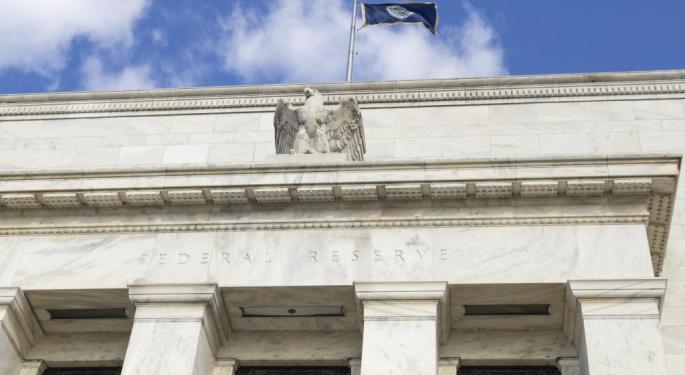 U.S. Treasury bonds for both the short- and long-term and the U.S. dollar were falling on Wednesday, while gold prices were rising after the Federal Open Market Committee minutes were leaked.
Many important issues were discussed in the meeting. Here's a look at some of the key points.
The Committee reported on the developments and state of domestic and foreign financial markets; plans for examinations of the Term Deposit Facility in August and of term RRPs at the end of the third quarter of the year; and "recent steps the System had taken to prepare further for the process of normalization of monetary policy" among other subjects relevant to the economy.
Most Fed officials noted rate hike conditions were "approaching," although the labor market still has room for improvement and they would like to see a more achievable inflation outlook and additional markets data. However, one official said he/she would hike rates already, but was willing to wait for more evidence, as the others had agreed on.
The staff highlighted "the risks to the forecast for real GDP and inflation were seen as tilted to the downside," reflecting their assessment that neither fiscal nor monetary policy seemed to be able to help the economy endure considerable adverse shocks. "At the same time, the staff viewed the risks around its outlook for the unemployment rate as roughly balanced."
Regarding the timing and pace of policy normalization, officials said a "premature policy tightening" could have limited ability "to offset downside shocks to inflation and economic activity when the federal funds rate was near its effective lower bound."
Most members assured the labor market slack could be mostly eliminated in the near-term, leading to conditions "as at or very close to those consistent with maximum employment (…) However, several were concerned that labor market conditions consistent with maximum employment could take longer to achieve, noting, for example, the lack of convincing signs of accelerating wages, which might be signaling that the natural rate of unemployment could currently be lower than they previously thought."
Participants generally noticed consumer spending was recuperating, and said they expected it to surge moderately over the short-term. They also assured to still be expecting "that the downward pressure on inflation from the previous declines in energy prices and the effects of past dollar appreciation would prove to be temporary."
Shares of the SPDR Gold Trust (ETF) (NYSE: GLD), ProShares Ultra Gold (ETF) (NYSE: UGL), Market Vectors Gold Miners ETF (NYSE: GDX) and iShares Gold Trust(ETF) (NYSE: IAU) were trading up on Wednesday afternoon.
View Comments and Join the Discussion!
Posted-In: News Bonds Commodities Treasuries Econ #s Economics Federal Reserve Markets Best of Benzinga