How Ecovent Provides Room-By-Room Comfort By 'Learning' The Building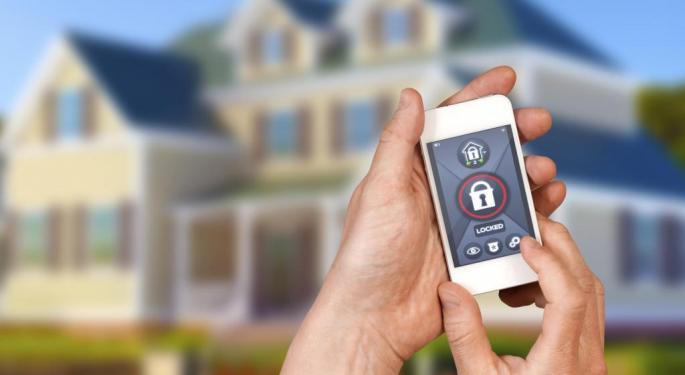 Since being named Automation Device of the Year, Ecovent, an intelligent home zoning system designed to deliver complete room-by-room climate control, has been getting a lot of attention.
Ecovent founder and CEO, Dipul Patel spoke with Benzinga about the company's main product, as well as the recent $6.9 million Series A funding round, led by Emerson Climate Technologies, a business segment of Emerson Electric Company (NYSE: EMR).
Related Link: Ecovent Named Automation Device of the Year for 2015 CEA Mark of Excellence Awards
Benzinga: What does Ecovent do exactly?
Dipul Patel: Ecovent is a wireless system of hardware and software that allows homeowners to separate their home into multiple temperature zones automatically.
This is done by replacing all of the vents in the system with our motorized vents and by plugging our sensors into wall outlets – one for each room or zone.
The sensors plug right in and actually give you back your outlets along with USB so you can charge phones and other devices.
BZ: So, what's the function of the sensors?
DP: They figure out the thermodynamics of your house. They learn whether you have an open or closed floor plan, whether you have many windows or no windows, all of the variables that exist in a home.
As a homeowner all you do is set the temperature for each room or zone and the system does all the hard work. It figures out how to move the air around, how to compensate for sunlight, weather, number of people in a room, all of that stuff.
BZ: It sounds somewhat comparable to automobile climate control – with more layers of complexity.
DP: Yes, exactly. I never understood why this had never been built (for homes) until we tried to build it.
A car has an unfair advantage. One manufacturer makes every decision. In the home, you have builders making decisions, electricians, a hundred people in the pot.
In addition, (in homes) there's no reporting. There's no optimization.
What we've been able to do is get some of the best radar and data people in the world to say, "OK, look, we're not going to use radar to quantify a battlefield. Instead, we're going to use very specific sensors to understand the house."
BZ: Does it work with most HVAC systems?
DP: Yes, as long as the system uses forced air and vents.
This is why having Emerson as a lead investor is such a big deal because who understands HVAC systems better than the people who make the compressors and components for most of these systems?
BZ: What about the big funding round Ecovent just completed?
DP: Ecovent has always been milestone-driven. We've always been very clear about what our goals are and why we need the money to get there.
We've been candid about where the strengths of the businesses are, but also what we're concerned about.
We did this because we knew while it could scare some investors, the ones that it actually didn't turn off are the ones we really wanted in our corner. That's how we decided who would invest.
When we decided how much, we always think about, "Listen, how much money will it take to get to a milestone which has a material impact on the value of our business?"
BZ: What about Emerson? How did that partnership come to be?
DP: We first met Emerson at CES (Consumer Electronics Show) in January. I said, "Look, we're going to be raising money in a few months, we need people to move fast, culture is everything with us, we're really focused on these things."
Three weeks later, at the AHR HVAC conference Emerson set up a meeting. In that meeting I realized, this could be a very real relationship. That these guys are serious.
The reason I bring this up is, culturally, they act very fast. They understand that they could slow it down.
BZ: Getting back to the Ecovent system, aside from climate control what else does it do?
DP: It understands the building. I really think this resonated with Emerson. The system delivers comfort by first understanding the building.
(Because of that) it can actually diagnose problems in the house.
Some diagnostics are already built into the Ecovent system and as the system gets out in the wild and learns more, we will roll out the diagnostics to analyze which rooms have bad insulation, which rooms have bad winders. All of this stuff.
BZ: What about a timeline for general product availability?
DP: We're taking pre-orders right now on our website at a discount, and we'll be shipping the beginning orders of these pre-orders in Q4 of this year.
Later this year, you'll be hearing from customers that bought it online, went through the vent sizing process, they got the product in their hands and they saw it themselves.
Related Link: ADT Teams With Google's Nest, LG On Home Automation
BZ: What's the ultimate distribution blueprint?
DP: There's a select group of people who are comfortable installing this thing themselves.
No matter how simple we make this thing, however, there's going to be a large subset of people who just don't want to deal with it. They just want a contractor to do it.
We're meeting with contractors and distributors. Emerson can help us here.
We're figuring out how to make this product attractive to contractors. Frankly, we need to show them that we have a reliable system that will work and won't create headaches for them.
We can actually start developing the relationship between the contractor and the homeowner that's a lot more preventative and a lot more proactive versus reactive.
It's coming. That's the beauty. We're at the dawn of an awesome era here.
At the time of this writing, Jim Probasco had no position in any mentioned securities.
Posted-In: CES Dipul Patel Emerson ElectricStartups Exclusives Interview Best of Benzinga
View Comments and Join the Discussion!