How Canada Ended Up Near A Recession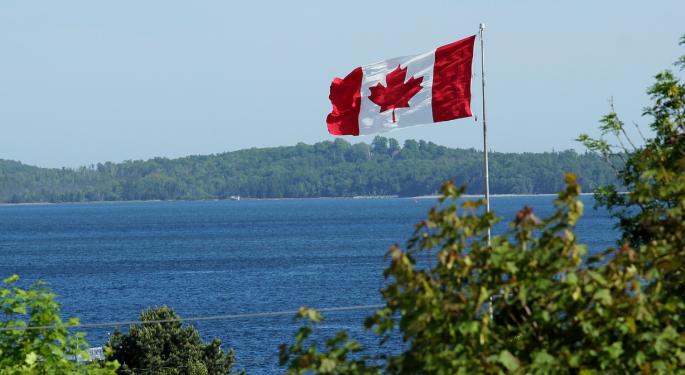 While American policymakers continue to assess month-over-month lukewarm indicators in efforts to determine the health of the nation's economy, their neighbors to the north have a much clearer picture. And it's not pretty.
The Canadian economy is tanking. GDP has fallen for five consecutive months, and the recently released May report showed a 0.2 percent contraction. According to CNBC, economists are saying that The True North is headed for two straight quarters of reduced output – the technical definition of a recession.
Canada, which is one of the world's largest producers of metals and oil, has been hit hard by falling commodity prices. A strengthening dollar and weak export numbers have only compounded the downward spiral.
Related Link: How The Untied States Has Backed Commodity Exporters Into A Corner
The Road To Now
"Canada is effectively a resource mutual fund," Chris Temple, editor of the National Investor, told Benzinga. Much more so than the United States, he said, "its economy lives and breathes on natural resources."
"They enjoyed the fruits of higher crude oil for a long time," noted JJ Kinahan, chief strategist at TD Ameritrade. "It's not surprising to see their economy stagnating a bit as the price of oil comes down."
Black gold began its sharp decline last summer. The Brent Crude and WTI indices are both sitting below $50 per barrel, their lowest points since the start of the downturn. Canada, whose already high oil exports hit an all-time high earlier this year, has unsurprisingly been one of the greatest victims.
However, oil alone hasn't killed the Canadian GDP. According to Temple, many of the country's other driving resources "have been getting hit for the past three or four years." He highlighted base metals, precious metals, coal and several agricultural products. Each class of commodities is at or near five-year lows.
Plus, he mentioned, public policy within Canada hasn't been much help. In Saskatchewan, where mining, drilling and farming combine for 20 percent of total GDP, companies have suffered from increased corporate taxes and regulation. Potash companies, said Temple, have been particular targets. He warned that similar legislation could be coming to Alberta as newly sworn-in Prime Minister Rachel Notley has been "knocking heads with business."
The issues aren't limited to the provincial level. Cameco Corporation (USA) (NYSE: CCJ), a firm based in the province and the world's largest publicly traded uranium producer, is entrenched in a long-running battle with Canadian officials over several billion in back taxes.
Related Link: Canadian ETFs Fall In Response To Interest Rate Cut
Future Outlook
"This is deteriorating fast," Temple cautioned, as he expressed concern that Canada's circumstances may not improve any time soon.
"With oil and gold still entrenched in a grinding bear market, there's no evident light at the end of this tunnel," Jim Samson, editor of the Wall Street Informer, told Benzinga.
Another reason for pessimism, said Temple, is China's coinciding slowdown. "The single largest buyer of commodities over the past 12 or 13 years just isn't what it used to be."
Furthermore, Temple sees resistance to slowing production amid historically low crude prices as a major concern, especially with the peak summer demand about to end. He believes that the excess output is being encouraged by Wall Street investors. "They've gone from boosting real estate markets [before the housing crisis] to boosting the energy sector….Just as things got out of hand with real estate, they are getting out of hand here."
He suggested that a collapse in Canada's energy sector could scathe Americans who have hedged themselves in the industry.
Samson highlighted oversupply in the United States and other major crude producers, which he said is hurting Canada as well. He attributed the unwarranted production surge to "new fracking technologies combined with OPEC's reluctance to cut output."
Temple warned that Canada's oil boom might have created unsustainable real estate bubbles in certain areas of the country. "Some of these [oil] towns have huge wage and real estate booms because of all of the money that pours in all of a sudden." According to him, many communities in Canada's western reaches have been especially exposed to such bubbles. On the west coast, the real estate sector has also been propped up by foreign investors, especially ones from China.
Kinahan echoed Temple's concern. "The western part of Canada has exploded so much over past few years. The commodity downturn will have an unequal effect there compared to other parts of the country."
To be fair, however, plenty of people disagree with the bearish sentiment. According to CNBC, many economists expect to see to 2 to 2.5 percent growth in the second half of the year. Some are citing rebounding exports as a positive sign.
The Bigger Picture
Temple sees Canada's downturn as part of a larger narrative of market uncertainty throughout the world. He highlighted "commodity markets collapsing, stress in emerging markets and a lukewarm [American] economy."
He recommends that investors hold high cash positions until the global economy shows more positive signs.
Image Credit: Public Domain
View Comments and Join the Discussion!
Posted-In: Canada Chris TempleCommodities Top Stories Exclusives Markets Interview General Best of Benzinga