New Must-Have Finance Mobile Apps: Benzinga v2.2 And Marketfy Land At The App Store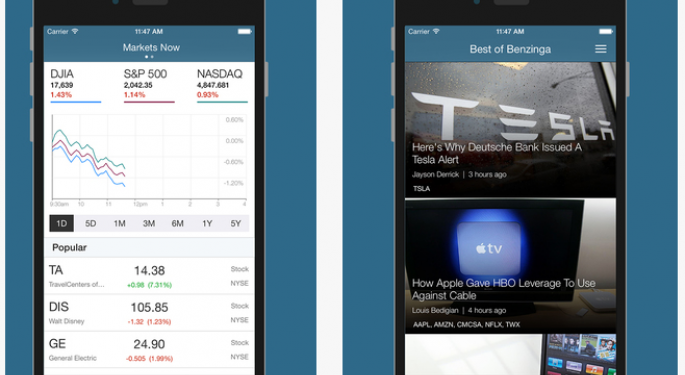 It is hard to find apps that are useful, beautiful, simple, intuitive and fast all at once. However, a couple of apps that should make investors and finance lovers very happy have surfaced this week.
We're proud to announce that the Benzinga v2.2 and Marketfy apps are now available in Apple's App Store and can be downloaded for free!
The Benzinga Stock And News Tracker
Version 2.2 of Benzinga's app provides its users with "access to the fastest financial news, trending social updates and auto-updating market data in one, easy to use platform."
What's New in Version 2.2
Fixed several issues that causing some users to experience crashes
Updates to articles
Fixed bug causing article text cut-offs
When users first access the app, they are asked to select their interests. The newswire or newsfeed is instantly filled with news pieces that fit those interests. Other tabs in the app provide updated markets and popular stocks data, allow users to create portfolios and follow particular stocks, and lets them set up real-time alerts on breaking news and Benzinga articles to stay ahead of the heard.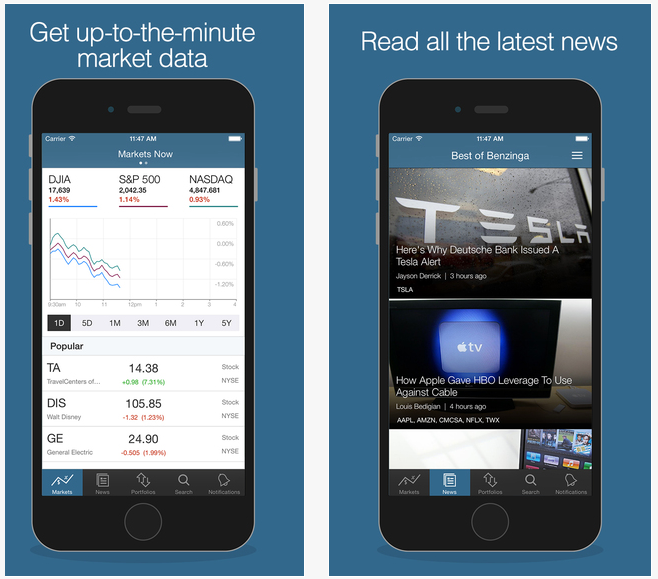 So, investors will now be able to access Benzinga's great financial content, recognize trade opportunities, and tap into the market pulse, all from one beautiful, really beautiful, app.
The Marketfy App
Available for the first time, the Marketfy app is intended for subscribers to Marketfy products – and seeks to complement the Benzinga app. This (also beautiful and easy-to-use) app allows users to:
Get product updates on one activity feed
Stay on top of their products portfolio performance and get notifications for new buy or sell alerts
Chat with the Marketfy trading community on the go
Interact and comment on new updates and analysis posted in the Marketfy community
Posted-In: Benzinga v2.2 MarketfyTech Personal Finance Best of Benzinga
View Comments and Join the Discussion!