Disney CEO Sheds Light On ESPN, Broader Cable TV Trends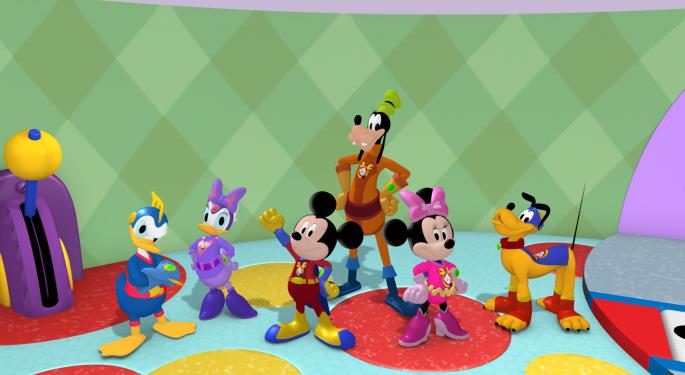 Following the company's Q2 earnings report, Walt Disney Co (NYSE: DIS) CEO Bob Iger discussed several key issues for the company in coming years.
Iger discussed the role ESPN will play in a rapidly evolving pay-TV environment, the implications of "cord-cutting" and Disney's view on competition from Netflix, Inc. (NASDAQ: NFLX).
The Future Of ESPN
Over the past several decades, ESPN has become the dominant brand in sports television. However, the network's recent decision to shed high-priced talent such as Bill Simmons, Keith Olbermann and Colin Cowherd have led to concerns about the future of the network.
According to Iger, however, ESPN in its traditional multi-channel form is doing just fine. In fact, 83 percent of U.S. multi-channel households watched ESPN in Q1 of 2015.
Implications Of Cord-Cutting
Nearly half (46 percent) of Disney's 2015 operating income has come from cable TV, and as more and more customers opt for cord-cutting alternatives to multi-channel subscriptions, the traditional multi-channel cable TV model has faced increasing scrutiny.
One possible solution would be to provide an "over-the-top" ESPN subscription service that would allow customers Internet access to ESPN programming without having to pay for a full cable TV package. However, Iger says that Disney is not planning on offering this type of service anytime soon.
"When we look at the [multi-channel] universe we don't really see dramatic declines over the next say five years or so, and therefore we are not taking what I would call radical steps to move our products into over-the-top businesses to disrupt that business because we don't think right now that is necessarily the greatest opportunity," Iger explained.
Netflix
While many see Netflix as a huge threat to traditional cable TV, Iger says that Disney views Netflix in a different light. "Netflix has become a really important partner to us in buying our off-network product, buying original programming for us," he explained.
"We look at Netflix actually right now as more friend than foe because they have become an aggressive customer of ours," Iger added.
Despite the seeming lack of concern over cord-cutting, Disney is now projecting only "mid-single digit" operating income growth from its cable business through 2016 after previously calling for "high single digit" compound annual growth from 2013 through 2016.
View Comments and Join the Discussion!
Posted-In: Bill Simmons Bob Iger Colin Cowherd ESPNNews Management Top Stories Tech Best of Benzinga