Deal Flow Predictor Calls For A 'Very Strong' M&A Market Through 2015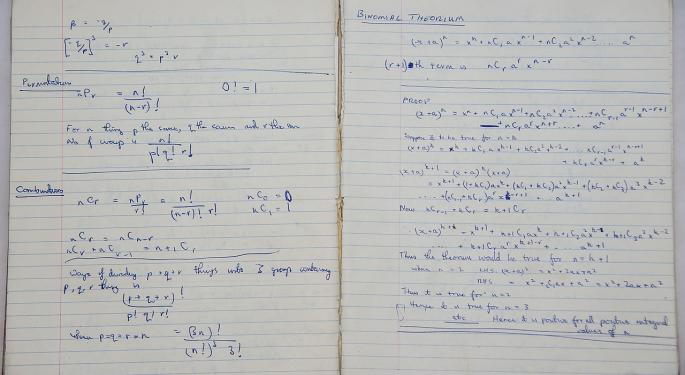 "I'm cautious to call it 'red-hot' but it's very strong," Matt Porzio, vice president of M&A strategy at Intralinks Holdings Inc (NYSE: IL) told Benzinga.
Porzio was referring to M&A activity through Q2 2015 and the results of Intralinks' latest Deal Flow Predictor forecast covering the period through Q4 2015.
Related Link: IntraLinks' Matt Porzio On Latest Deal Flow Predictor And Sentiment Survey
Benzinga: What's the big overall take away from the most recent Deal Flow Predictor (DFP)?
Matt Porzio: At this point, we can predict the full-year 2015, and it's up. We've got 2015 compared to 2014 and our midpoint prediction of 11 percent growth indicating a very strong M&A market.
BZ: How does that stack up against M&A experts?
MP: Gregg Lemkau, co-head of global M&A at Goldman Sachs, said he expects us to beat 2007 in terms of number of deals and value.
Our predictions agree with that statement. This M&A market has a good chance to actually top 2007 in terms of number deals.
BZ: The most recent DFP contains something called the Mid-Market Monitor. What is that?
MP: The Mid-Market Monitor provides a quarterly snapshot of M&A opportunities on Intralinks' Dealnexus platform. Deals being posted on the Dealnexus platform are even earlier than those posted on DFP.
The idea is to give people a sense of what deals are heading out to market even before they get into our DFP data.
BZ: Is this kind of like weather forecasting, further out and therefore not necessarily quite as accurate?
MP: That's a good way to think about it. Deals reflected on the DFP have a high likelihood of being done. Those on Dealnexus include many with a chance of being pulled.
Dealnexus data does give you a sense, even early on, what types of deals are being brought to market and might be announced nine to 12 months down the road. It's a predictor to the predictor.
BZ: What concerns are there regarding an M&A bubble?
MP: That's a natural question. Based on some of the "multiples" information it would lead people to believe a bubble is being created.
I would caution that compared with the Internet bubble, this is different. I think some of these companies, while highly valued with very high multiples, do have upside and room to grow.
BZ: What is the story from a regional perspective?
MP: Latin America is still very weak, and it's really about the commodity prices there.
Asia Pacific always has volatility, though it's on the upswing certainly due to a lot of inbound interest. Some of the governments within APAC are starting to realize that they need to stimulate M&A activity.
EMEA and North America have led the way, have been the strongest and will continue to be strong in terms of amounts and deals through the end of the year.
BZ: The report mentions South Korea's One Shot Act. What's that all about?
MP: South Korea has been an insular market. Large conglomerates dominate. Smaller companies are acquired directly in country.
The Korean government is realizing it gets more foreign investment if it makes the process easier. The One Shot Act reduces regulation to make foreign investment and the M&A buyout process easier
BZ: What does the most recent DFP have to say about the potential impact of Grexit?
MP: Anecdotally, talking to our client base, it's almost as if people are desensitized to Greece. There is a sense that a Greek exit from the eurozone would not have a major effect.
Some people do fear a ripple effect, but most of the bankers in the region and those buying into the region don't seem to think it's an issue.
BZ: Are the sentiments similar when it comes to the Fed raising interest rates?
MP: Yes. Interest rates are already built in to this market.
The Fed has done the right thing by being slow and deliberate. Bankers are telling me it's still cheap money, most deals are done in cash and there's a ton of private equity money on the sideline.
BZ: Any surprises when it comes to commodities?
MP: We thought we would have already started to see a little bit more uptick in terms of distress sales.
There is some minor movement on that front but I think everybody's still trying to figure out where this is going in terms of commodity prices and oil prices. People are standing pat right now.
BZ: What about telecom?
MP: On the distribution side, things have slowed. I think that's just the result of a lot of the cherry picking of the quality assets.
The consolidation has happened and the bigger entities are looking at each other and saying, "Is there a merger here?"
Related Link: Online M&A Dealmaking Grows, Fueled By Intralinks DealNexus
BZ: What did the most recent sentiment survey reveal?
MP: Because of recent history, dealmakers eye the future with cautious optimism. We're right at that point where people feel like although no one is calling a bubble it feels like there are some elements that are bubble-like or bubble-ish.
How much better can it get? Probably not much. On the other hand, people are also saying, "I don't see a decline happening."
I think we're going to see the sentiment survey keep in this area in a tight kind of band for a while now.
At the time of this writing, Jim Probasco had no position in any mentioned securities.
Image Credit: Public Domain
Posted-In: Goldman Sachs GroupEmerging Markets Eurozone M&A Top Stories Exclusives Markets Interview Best of Benzinga
View Comments and Join the Discussion!