NHTSA Comes Down Hard On Auto Industry; Fiat Chrysler Gets Slammed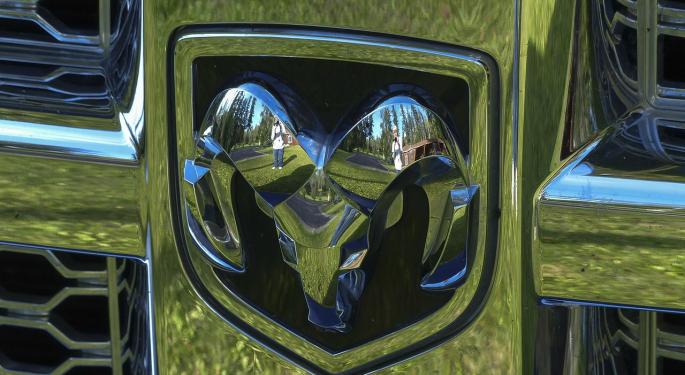 The National Highway Traffic Safety Administration has been under the microscope recently after several high profile automakers were found to be operating dangerously and putting the public at risk. The organization claims that carmakers are often deceptive in order to avoid hefty fines, but the NHTSA appears to be taking a hardline against unsafe procedures moving forward in order to prevent any further safety issues.
Fiat Chrysler To Pay Record Amount
Fiat Chrysler Automobiles NV (NYSE: FCAU) was slapped with a record-breaking $105 million fine due to a lapse in safety recalls. The Italian-American car manufacturer recalled some 193,000 Ram trucks, but didn't properly fix the vehicles before handing them back to consumers.
In addition to the fine, Fiat Chrysler is required to buy back qualifying vehicles, something that analysts estimate could cost the company around $3 billion. However, Fiat Chrysler execs say the damage won't be quite so expensive, since the cars can be resold once they've been adequately repaired.
Related Link: A Multitude Of Factors Surround Ford Ahead Of Earnings
Strict Rules Ahead
Though Fiat Chrysler is the first carmaker to suffer the NHTSA's wrath, many believe that the future for automakers is likely to be stringent. After both General Motors Company (NYSE: GM) and Toyota Motor Corp (ADR) (NYSE: TM) were accused of misleading regulators to hide mechanical issues with their cars, the NHTSA is cracking down on unsafe operations.
U.S. regulators are likely to be much more aggressive in the coming years to ensure that any safety issues are fully disclosed and dealt with accordingly, something that could cause a financial headache for car manufacturers.
Image Credit: Public Domain
Posted-In: automobiles National Highway Traffic Safety AdministrationNews Top Stories Movers Best of Benzinga
View Comments and Join the Discussion!