Will Video Game Makers Profit In China?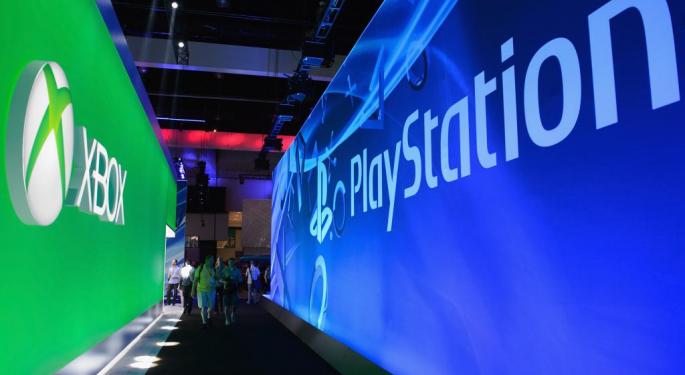 Last week, China's Ministry of Culture released a statement confirming that the nation's ban on making and selling video game consoles will be lifted.
The new rules will allow both foreign and domestic game makers to manufacture and sell their products anywhere in the country. The decision came roughly a year after Chinese officials relaxed their ban on gaming consoles by allowing foreign game makers to sell their consoles in the Shanghai Free Trade Zone.
Who Will Profit?
Video game manufacturers like Sony Corp (NYSE: SNE), Nintendo Co. (OTC: NTDOY) and Microsoft Corporation (NASDAQ: MSFT) are likely to cheer China's decision as it opens a massive gaming market that has been previously unavailable. When the Chinese government announced the relaxed rules allowing video game sales in Shanghai last year, game makers' shares saw marked increases as they geared up to take advantage of the untapped opportunity.
Related Link: Video Game Industry Outlook 'Still Blurry,' Credit Suisse Analysts Warn
Competing With Computers
While the ban's removal represents a potentially lucrative opportunity for console makers, there will be several obstacles to overcome. For one, China's ban on video games has created a culture of PC gamers. Chinese youths' history of playing computer games could be hard to overcome for console makers.
Consumer Preference
Another setback could be nationalist sentiment among consumers. China has long had a tense political history with Japan, something that could weigh on Japanese game makers' sales in the country.
Territorial disputes have led to Chinese riots in which Japanese goods were destroyed in the past, so brands like Sony and Nintendo may suffer. However, Western goods tend to fare better in China, so Microsoft may have a leg up on the competition, especially since much of the nation's population already has some familiarity with the brand from using Windows.
View Comments and Join the Discussion!
Posted-In: China Nintendo video gamesMarkets Tech Trading Ideas Best of Benzinga