Workers Push $15 Minimum Wage, Experts Respond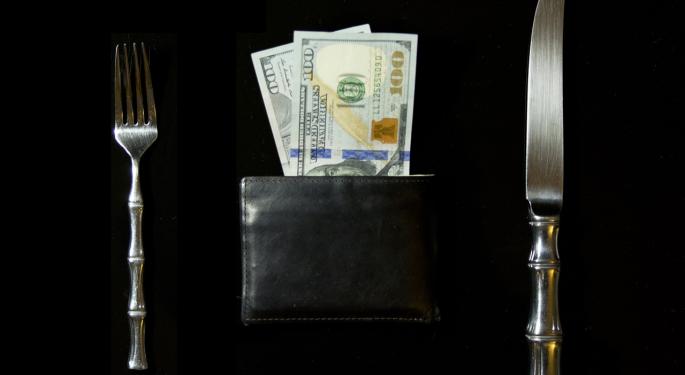 The nationwide push toward a $15 minimum wage marched forward on Wednesday.
University of California President Janet Napolitano announced that the network of schools would raise its minimum wage for employees working at least 20 hours a week to $15 per hour by 2017. The UC school system employs more than 200,000 people, and at least 100,000 of those work full-time. California's public universities will become the first in the country to adopt the $15 wage floor.
A National Scope
3,000 miles to the east, a New York state panel recommended that the minimum wage for fast food workers in the state should be gradually increased to $15 as well. Governor Andrew Cuomo reportedly convened the panel to circumvent Republican legislators who have fought such proposals in the past. The state's labor commissioner will still have to
clear the initiative.
Related Link: The 10 Worst Companies To Work For
Meanwhile, city officials in Washington, D.C. approved language on a planned 2016 ballot initiative that would impose a $15 minimum wage for employees citywide. The capital's current minimum wage is set at $10.50 and is set to rise to $11.50 next year. Supporters of the proposal will have to collect about 23,000 signatures before residents can vote on it in next year's ballot, but, according to the Washington Post, they should be able to do so easily.
$15 dollar minimum wage policies have already been approved in Seattle, Washington; Los Angeles, California and San Francisco, California.
Substantial Criticism
Unsurprisingly, not everyone is happy about increased pay for workers. Carolyn Richmond, an attorney for New York restaurateurs told NPR that the hike would affect business growth, hiring and competition. Higher wages, she said, will force employers to cut back on new hires and discourage smaller fast food chains from expanding into the state.
"It's difficult to find a reason [for the policy], other than personal animus on the part of the union, and the governor shoring up his left flank," said Michael Saltsman, research director at the conservative Employment Policies Institute. He worries that a $15 minimum wage could spread to other restaurants and industries as well as employers struggle to remain competitive players in the labor market.
California governor Jerry Brown's administration came out in opposition to the decision by the University of California to boost wages for its employees. He said that move would cost taxpayers $4.5 billion over the next several years and hurt the state's overall economy.
Related Link: Andrew Zatlin's Surprising Alternative To Raising The Minimum Wage
The Washington, D.C. Chamber of Commerce released a poll in which more than half of the city's business owners indicated that they would cut their payrolls under a $15 minimum wage.
McGladrey LLP Chief Economist Joe Brusuelas, in an interview with Benzinga, also cautioned that minimum wage increases often reflect a significant bias toward more experienced workers. According to him, "more experienced" typically means older white women who work part-time, leaving young men of color out in the cold.
And although he believes that distortionary effects on the public sector would be limited, he acknowledged that the private sector, particularly "retail, leisure, hospitality, education, health services and social assistance/non-profit" would take a tangible hit.
The Responsible Decision
But Phil Davis, founder of PSW Investments, thinks that a $15 minimum wage would be "good for the country" in that it would reduce economic disparity.
According to him, "Wages [in the United States] are being traded for corporate profits." He said that companies are increasing earnings amid falling revenues by cutting labor and capital expenditure costs. "That's why you're seeing all these firms beat on EPS but miss on revenues."
Davis argued that a higher minimum wage forces corporations to pump money back into local communities and stimulate their economies. Indeed, Brusuelas noted that since low-income workers "spend most, if not all, of their income, boosting the minimum wage would provide a modest stimulus to the economy via their consumption."
Davis views it as the responsibility of state and federal officials to increase wages, "which have been flat for 40 years after adjusting for inflation," since the private sector lacks an incentive to do so.
He believes that the distortionary effects highlighted by critics of minimum wage hikes are "blown out of proportion."
And whether or not they like it, many companies are raising their wages in anticipation of increased legislation targeting economic equality. "We're seeing [places like] Wal-Mart and Target get ahead of the policy curve," said Brusuelas. Additionally, over half of the middle-market companies with which he works expect having to raise wages this year.
Related Link: Do Minimum Wage Hikes Always Lead To Higher Prices?
Not Enough
But Brusuelas told Benzinga that a $15 minimum wage, at least in many areas of the country, won't lift families out of poverty. According to him, a couple living in D.C. with one child and one income earner would need $16.31 per hour to cross the poverty line. In Los Angeles, he said, they would need close to $21. "In each locality, it's vastly different when you talk about a living wage versus a minimum wage."
In any case, Wednesday's announcements are likely only the beginning of a wave of wage hikes that could sweep the country. As the "Fight For 15" continues, Benzinga will watch how firms and markets respond.
Image Credit: Public Domain
Posted-In: Andrew CuomoNews Politics Legal Events Top Stories Economics Interview Best of Benzinga
View Comments and Join the Discussion!