How Donald Trump Is Outpacing The GOP Pack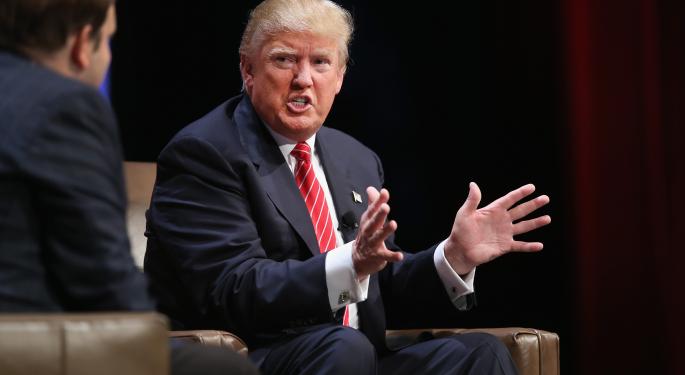 The numbers demand Donald Trump be taken seriously, at least for the time being.
According to the most recent Washington Post-ABC News poll, Trump is the clear alpha within the Republican pack; 24 percent of registered GOP members and right-leaning voters listed the real estate tycoon as their preferred candidate, giving him almost twice the level of support as his closest competitor.
Trump maintained the sizeable lead even after making controversial comments about Senator John McCain, who was held prisoner for over five years during the Vietnam War.
Trump's message has clearly struck a chord with voters tired of the general cacophony which has been the GOP race thus far. Although many think he lacks political tact, Trump has painfully told many Americans what they want to hear and -- perhaps more importantly -- how they want to hear it.
A Convincing Perspective
If there is one thing that Trump is doing well, it is "touching the nerve of not being a politician as usual," Kaltbaum Capital Management President Gary Kaltbaum told Benzinga. "It's not hard to sell the fact that most of these politicians going after Trump have [played a role in] building up the $18 trillion in debt that [he says is] killing this country."
Trump has aligned himself with the fiscally conservative Tea Party, calling for efforts to cut down the federal debt and avoid a Greece-like situation in the United States.
Related Link: Clinton To Take A Stand On Activist Investing
He has also taken an outsider's perspective to criticize what he sees as overly complicated federal policy. According to Kaltbaum, he has highlighted "75,000 pages in tax code and...federal regulations." Trump, and advocate for tax reform, believes in a "Reaganomics" approach -- cutting taxes on wealthy people will confer benefits to the entire public.
Kaltbaum believes that voters have been willing to forgive Trump for his public gaffes, acknowledging that his missteps were probably honest mistakes. "I don't think many people actually think Trump is a racist or hates veterans."
At the end of the day, said Kaltbaum, Trump's mantra is simple: "Enough is enough."
Actual Policy
Ideological appeal aside, many commentators worry that Trump lacks a well-defined strategy and thorough understanding of public policy.
"Trump's economic platform is an incoherent mix of half-baked ideas and economic populism that are not in touch with modern financial, demographic and social realities," Joe Brusuelas, Chief Economist at McGladrey LLP, told Benzinga.
He also worries that Trump doesn't adequately understand the current state of the commodities market and would likely escalate international economic tensions "at a time when leadership is at a premium." Indeed, he attacked President Barack Obama for visiting China last year and has accused Japan of currency manipulation.
But until now, Trump has largely been able to avoid questions of specific policy while still drawing attention to his personal and ideological charisma. Nevertheless, it is likely that his specific platform will be put under a magnifying glass during GOP debates...should he make it that far.
Posted-In: Donald Trump Gary Kaltbaum Joe BrusuelasPolitics Top Stories Exclusives General Best of Benzinga
View Comments and Join the Discussion!