Clinton To Take A Stand On Activist Investing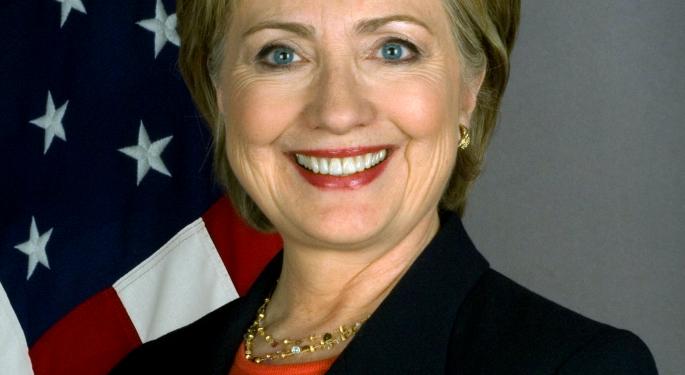 Wall Street has long debated the positives and negatives that activist investors bring to the marketplace. On one hand, they create a voice for the shareholders and hold companies accountable for maximizing value, but on the other, they often bully corporations into making decisions that may not be best in the long term.
While investors, analysts and journalists have been discussing the issue for quite some time, this week marks the first time the issue will make its way into politics.
Clinton's View On Capital Gains
Later this week, presidential hopeful Hillary Clinton is set to make a speech regarding her plans for capital gains taxes should she take office in the White House next year.
Related Link: Marijuana Takes On A New Role In Presidential Campaigns
Her proposal is expected to rework capital gains tax rates by creating a sliding scale that changes the amount investors are charged based on how long they've held an investment. If it goes through, short-term investors would be penalized with higher rates in order to discourage what Clinton has called "quarterly capitalism," or an intense focus on short-term earnings.
Activist Issue
Clinton's proposal has been framed as a way to "help CEOS and shareholders alike" by redirecting attention to long-term profitability rather than focusing on quarterly earnings reports. Clinton is likely to address the issue of activist investors during her talk, though her position on the issue has been relatively neutral.
Her speech is expected to address the problems with activist investors' focus on the short term, but encourage activism to continue as it creates a necessary platform for shareholders and keeps executives accountable.
Image Credit: Public Domain
Posted-In: Activist Investing Hillary ClintonPolitics Top Stories Trading Ideas General Best of Benzinga
View Comments and Join the Discussion!