Exclusive: Merchant Cash And Capital/Bizfi Founder On Small Business Optimism And More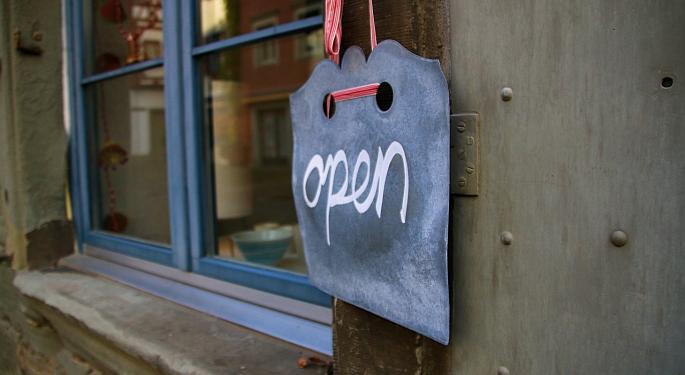 According to the NFIB's latest Small Business Optimism Index, small businesses took a hit in June. The index plummeted 4.2 points after five months of positive growth.
Stephen Sheinbaum is the founder of alternative lending companies Merchant Cash and Capital and Bizfi. Sheinbaum told Benzinga that data collected by MCC paint a slightly different, more nuanced picture.
Related Link: State Of The Economy Update: NFIB Small Business Optimism
Benzinga: As founder of a company that deals with small businesses on a daily basis, what's your take on the latest NFIB index?
Stephen Sheinbaum: I'm not involved with the creation of that (NFIB) report, but we (MCC) have economic relationships with about 4,000 merchants.
The NFIB report illustrates a downturn in optimism, sales and in buying inventories. What I'm seeing is different.
BZ: How so?
SS: We have two types of products. We have a funding product we give to merchants where we collect a fixed dollar amount every day.
Alternatively, and for about 60 percent of our business, we take back a fixed percentage of future sales. That is recalibrated every day or every two weeks.
I can tell you that what we're collecting back from merchants is rising month over month, quarter over quarter.
BZ: This sounds more optimistic than the NFIB index. Is that how you see it?
SS: For our merchants, sales are going up not down.
(On the other hand) I can tell you they talk about inventories going down or not increasing.
A vast majority of our customers are still using the money for growth-oriented things, whether it's [to] take on another location, refurbish something, increase money in marketing and things of that nature.
BZ: What's your explanation for the differences between what you see and what the index reports?
SS: The majority of our business involves businesses where consumers are present. Whether it's auto parts or repair or food and hospitality or general retail – things of that nature.
In many of those personal services, there's not huge inventory. Restaurants don't have huge inventory, (nor do) doctors and things like that.
We do some construction and transportation. Transportation has trucks but not a lot of inventory.
That said, I think the report contains data greatly impacted by the underlying cause.
BZ: Can you provide an example?
SS: For example, cost of labor is going up. Cost of labor goes up for two reasons – either there are fewer job applicants for available positions or wages increase.
If labor markets are softening or holding flat and wages are increasing, my guess would be it has a lot to do with the rise in minimum wage, which is mostly out on the West Coast.
That will undoubtedly dampen hiring or cause businesses to lay workers off.
BZ: Switching gears, what happens if or when the Federal Reserve raises rates?
SS: Because we've been through multiple credit cycles and have not increased our pricing to our business customers, it will not increase the cost of our financing or that of our peers to the small-business owner.
Generally, if the Fed increases rates, that's a reaction to an economy heating up, which is a good thing for business owners.
BZ: What about the euro debt crisis? How will that affect small businesses?
SS: The ECB has lowered rates and is purchasing notes much as we did when we went through our QE. What that does is weaken their currency.
If their currency is weaker, it is going to impact tourism coming here. In addition, it's going to reduce exports being purchased from here, because everything is more expensive.
So, for businesses here, in particular that are tied to those two areas, it'll impact them.
BZ: How do you see the results of the NFIB index as well as what you are seeing affecting investors?
SS: I think investors would be wise to pause and not react too much to any of this.
Based on what I'm seeing in the market, as I said earlier, our customers seem to be performing very well and are having strong results.
That causes me just to sit tight for a bit, to watch and see what happens.
BZ: What about small businesses? Should they pause as well?
SS: Businesses don't necessarily have the ability to wait. If a location opens up across the street or next door and it wants to expand, it has to move quickly and act on it.
If there's something acute – a water main break in front of someone's building and customers haven't been able to get there for a week or two – they're going to need some capital.
But, if someone is thinking about taking on another product line or expanding hours or doing something more mechanical and planned out, they can hold off or sit on their hands for a little bit.
Related Link: Greece Receives Bailout Deal: Now What?
BZ: What does the future look like for Merchant Cash and Capital?
SS: We keep creating longer-term, lower-cost products and improving our technology. We're making it easier for someone to do business with us and I think that's going to continue.
We're becoming more and more data-driven every day. The disparity between what we're collecting and what we project is becoming narrower in a positive way. We don't see any change in that momentum. Not in our business.
At the time of this writing, Jim Probasco had no position in any mentioned securities.
Image Credit: Public Domain
View Comments and Join the Discussion!
Posted-In: ecb Federal Reserve Merchant Cash and Capital minimum wageTop Stories Success Stories Exclusives Interview Best of Benzinga