Benzinga's M&A Chatter for Monday July 13, 2015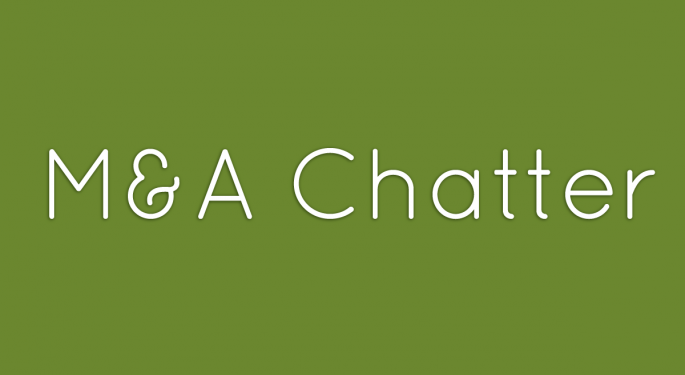 The following are the M&A deals, rumors and chatter circulating on Wall Street for Monday July 10 through Sunday July 12, 2015:
BorgWarner to Acquire Remy International for $29.50/Share in Cash
The Deal:
BorgWarner announced Monday, it will acquire Remy International, Inc. (NASDAQ: REMY) for $29.50 in cash, for an enterprise value of approximately $1.2 billion. The transaction is expected to close in Q4 of 2015.
Remy International shares rose more than 42% Monday, closing at $29.24.
Jarden to Acquire The Waddington Group for $1.35B
The Deal:
Jarden Corporation (NYSE: JAH) confirmed Monday, that it has agreed to acquire manufacturer and marketer of premium disposable tableware, Waddington Group, Inc., from an investment fund managed by Olympus Partners for approximately $1.35 billion. The deal is expected to close in Q3 of 2015.
Reuters had reported on Sunday that Jarden was close to a deal to acquire Waddington.
Jarden shares rose 4.5% Monday, closing at 54.78.
Hearing The Hartford has Hired Advisor to Explore Strategic Options
The Rumor:
Shares of The Hartford Financial Services Group, Inc. (NYSE: HIG) rose Monday, on unconfirmed market chatter than the company has hired an advisor to explore strategic options, after reportedly being approached by The Travelers Companies, Inc. (NYSE: TRV). According to a source, preliminary talks are in the $54.00 to $55.00 range.
A spokesperson for The Hartford was not available for comment.
Hartford shares rose almost 3% Monday, closing at $45.10.
MPLX and MarkWest Energy Partners Announce Merger
The Deal:
MPLX LP (NYSE: MPLX) and MarkWest Energy Partners, L.P. (NYSE: MWE) announced Monday, that they have signed a definitive merger agreement under which MarkWest would become a wholly owned subsidiary of MPLX. The common unitholders of MarkWest would receive 1.09 MPLX common units and a one-time cash payment of approximately $3.37 per MarkWest common unit, for total consideration of $78.64 per MarkWest common unit. MPLX`s sponsor, Marathon Petroleum Corporation (NYSE: MPC), would contribute $675 million in cash to MPLX to fund the one-time cash payment.
The transaction is expected to close in Q4 of 2015.
MarkWest shares rose 14% Monday, closing at $68/09. MPLX shares fell 14.5%, to close at $59.03. Marathon Petroleum shares rose almost 8%, closing at $58.78.
View Comments and Join the Discussion!