The Breakdown Of China's Crisis And The World's Greek 'Pimple'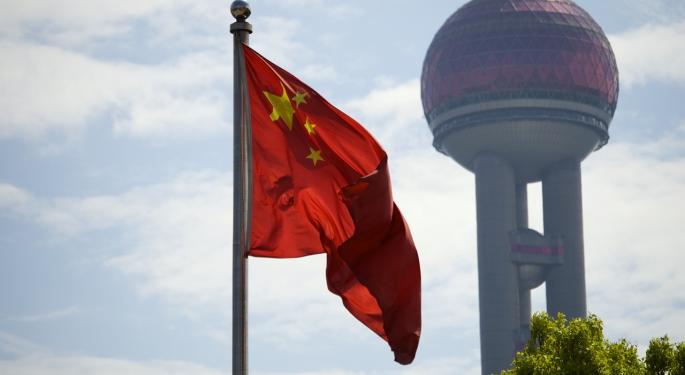 It's safe to say that Chinese markets are in the midst of a crisis. And that's probably the only thing safe about the country's economy right now, which some are comparing to the United States circa 1929.
The Shanghai Composite Index has plummeted 28 percent since mid-June, after 150 percent gains over the previous year. Michael Hewson, chief marketing analyst at CMC Markets, Chinese equity markets have regularly been undergoing 6 to 7 percent swings on a day-to-day basis. To make matters worse, the country's housing bubble could be ready to pop.
Officials in Beijing are scrambling to mitigate the situation.
State Of Affairs
Joe Brusuelas, chief economist at McGladrey, said in a conversation with Benzinga that a precarious climate has emerged in China, especially since about 17 percent of trades in the nation's equity markets are margin-based.
Related Link: China Lost An Entire Spain In 17 Days
Hewson worries that the large amount of margin trading could wipe out small personal investors who have been working with borrowed money. Government efforts to push this demographic into equity markets, he explained, is what actually allowed for the year-long, pre-crash surge. He admitted that no one knows just "how much margin debt there is," but he pointed out that the fact that "a quarter of the market has actually been suspended" indicates a significant liquidity problem.
Meanwhile, Hewson noted, commodity prices are tanking, with copper, iron ore and crude oil all down on Tuesday.
According to Chris Temple, editor of the National Investor, China's housing bubble has already begun to deflate, reducing the "fleeting wealth" that was previously driving up consumer spending.
Government Action
The CPC has taken an active role in trying to placate its screaming economy.
Temple believes that that state officials were crucial in allowing China's economy to march forward so long without encountering a major hurdle. He argued that, unlike the U.S. Fed, the People's Bank of China takes its orders from the central government, allowing it to roll over bad debts to prolong a crisis.
But now it's time for damage control, and Beijing has responded.
Related Link: Gartman: Greece Faces "Ultimate" Deadline, World Prices Collapsing
Temple noted that the central bank has lowered interest rates four times since the beginning of the year, and he expects it to apply further downward pressure over the next six months.
Hewson mentioned that the central government has also lowered the reserve ratio on banks four times in an effort to pump liquidity into the financial system. He was skeptical that these policies were having any tangible impact on the markets. "It's just not working," he said.
According to Brusuelas, China "is stuck between a rock and a hard place." The impossible question is the degree to which the People's Bank should attempt "to soften deceleration in growth, given what's clearly a bubble in its equity markets and commercial and residential real estate markets."
American Implications
What does all of this mean for the casual American investor? Not much, replied Brusuelas. He said that the current market environment is one which would only be appealing to "professionals in the industry who have an appetite for risk...big-money, institutional players."
As of right now, he believes that China's woes are relatively limited in scope – "a local or perhaps regional problem." Temple concurred, saying that central bank activity "helps argue against, for now, a worldwide deflationary relapse and bear market."
Nevertheless, Hewson highlighted some ways in which China's market decline could seep into the U.S. economy. He said that the crisis would help strengthen the dollar, damaging the global competitiveness of S&P 500 companies "in Europe, in Japan and in China."
He also posited, "Lower commodity price [would] feed into a lower inflation narrative," potentially pushing back a rate hike by the Fed.
"People talk about the U.S. economy being very closed, but I don't think it's as closed as people think."
Under The Radar
Despite the dire situation in China, its coverage in U.S. media has been unexpectedly light.
Brusuelas chalked this up to the fact that "the major systemic risk to the U.S. economy emanates from Europe."
Hewson agreed that attention on Greece has distracted from China's ailing markets, but still believes that the dearth in coverage is a concern.
"Greece is a pimple on the body of the world economy, and china is a very big limb," he said. "If China catches a cold, we'll know all about it. If Greece catches a cold, we'll probably blow our noses and go on."
Image Credit: Public Domain
Posted-In: News Eurozone Politics Global Economics Federal Reserve Markets Interview Best of Benzinga
View Comments and Join the Discussion!