Benzinga's M&A Chatter for Monday July 6, 2015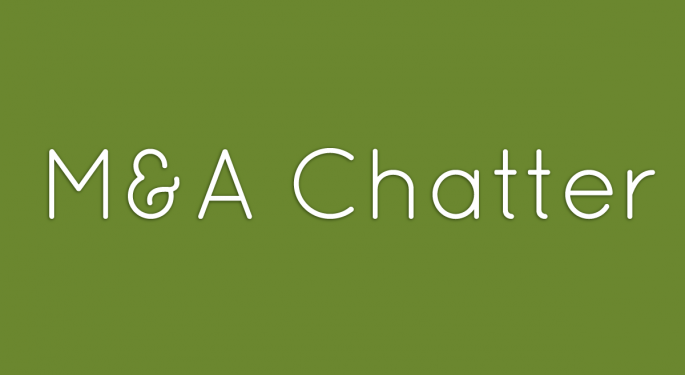 The following are the M&A deals, rumors and chatter circulating on Wall Street for Monday July 6, 2015:
Hearing Teva To Raise Bid For Mylan To $86-$88/Share This Week
The Rumor:
Shares of Mylan N.V. (NYSE: MYL) spiked to an intraday high of $73.90 Monday, following a report from Bloomberg, that Teva Pharmaceutical Industries Limited (TEVA) could raise its offer to $86.00 to $88.00 per share, according to sources. Teva had offered $82.00 per share in April.
Mylan offered $35 billion for Perrigo (NYSE: PRGO). That bid was backed by Abbot Labs (NYSE: ABT) which has a 14.5% stake in Mylan.
Mylan shares rose $0.63 Friday, closing at $70.75.
IBM Said to Bid for FireEye
The Rumor:
Shares of FireEye (NASDAQ: FEYE) rose Monday, on renewed unconfirmed market chatter of a potential offer from IBM (NYSE: IBM). Deal Reporter said in December that FireEye had been approached by both IBM and Oracle (NYSE: ORCL).
Spokespersons for FireEye and IBM were not available for comment.
FireEye shares fell $0.18 Monday, closing at $48.01.
Hearing Unconfirmed Market Chatter of Lenovo Interest in Marvell Technology
The Rumor:
Shares of Marvell Technology Group Ltd. (NASDAQ: MRVL) rose briefly Monday, on unconfirmed chatter of a potential bid from Lenovo Group Limited (OCT: LNVGY).
Spokespersons for Marvel and Lenovo did not respond to requests for comment.
Marvell shares fell $0.23 Monday, closing at $13.19.
Hearing The Deal Says JP Morgan Interested in Lending Club
The Rumor:
LendingClub Corporation (NYSE: LC) shares spiked higher Monday on a report from The Deal that JP has an interest in the peer-to-peer lending company, which had its IPO in December 2014.
After-hours, Charlie Gasparino tweeted that JP Morgan sources said there was no interest in acquiring Lending Club.
Lending Club shares gained 5.73% Monday, closing at $14.75.
View Comments and Join the Discussion!