Benzinga's M&A Chatter for Wednesday July 1, 2015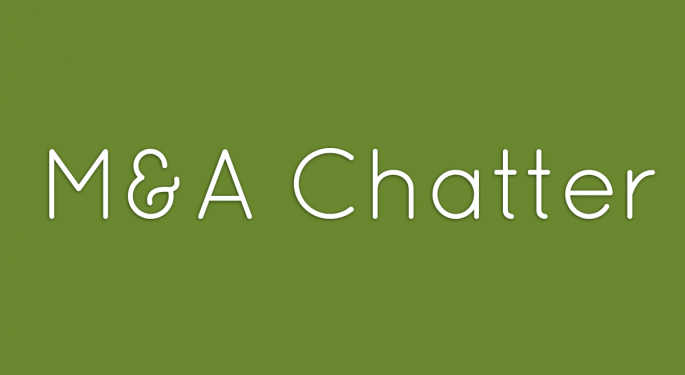 The following are the M&A deals, rumors and chatter circulating on Wall Street for Wednesday July 1, 2015:
ACE to Acquire Chubb for $28.3B in Cash, Stock
The Deal:
ACE Limited (NYSE: ACE) and The Chubb Corporation (NYSE: CB) announced Wednesday, that the Boards of Directors of both companies have unanimously approved the acquisition by ACE of Chubb for $62.93 per share in cash and 0.6019 shares of ACE stock. The total value of the deal is $28.3 billion, or $124.13 per share, based on the closing price of ACE shares on June 30, 2015. ACE shareholders will own 70% of the combined company, and Chubb shareholders will own 30%.
The transaction is expected to close during the first quarter of 2016,
Chubb shares rose 26% Wednesday, closing at $119.99. Ace shares rose $0.81 to close at $102.49.
Hearing Unconfirmed Chatter of Potential Exxon Mobil Bid for Anadarko
The Rumor:
Shares of Anadarko Petroleum (NYSE: APC) rose briefly Wednesday, on renewed unconfirmed chatter of a potential bid from Exxon Mobil (NYSE: XOM). The rumored offer is up to $90.00 per share, according to sources.
Exxon Mobil declined comment on the rumor. Anadarko Petroleum did not respond to a request for comment.
Anadarko shares fell $0.88 Wednesday, closing at $77.18.
Shaanxi J&R Fire Protection to Acquire 5.5% Stake in CNinsure for $37.36M
The Stake:
CNinsure Inc. (NASDAQ: CISG) announced Wednesday that Shaanxi J&R Firefighting Inc. has entered into a share purchase agreement with Kingsford Resources Limited to acquire a 5.5% stake in CNinsure. J&R will purchase from Kingsford 63,320,000 ordinary shares of CNinsure, which is equal to 3,166,000 of CNinsure's ADSs, for a total purchase price of approximately $37.4 million in cash.
The deal is expected to close within 60 days.
CNinsure shares lost $0.04 Wednesday, closing at $8.79.
PayPal tO Acquire Xoom for $25/Share in Cash
The Deal:
PayPal, Inc. (NYSE: EBAY) and digital money transfer provider Xoom Corporation (NASDAQ: XOOM), announced Wednesday, a definitive agreement under which PayPal will acquire Xoom for $25 per share in cash, for an enterprise value of approximately $890 million.
The deal is expected to close in Q4 of 2015.
Xoom shares closed Wednesday at $20.70 and traded up 25% after-hours.
View Comments and Join the Discussion!
Posted-In: M&A News Rumors After-Hours Center Movers