Investing In NYC Real Estate Via CityFunders Crowdfunding Platform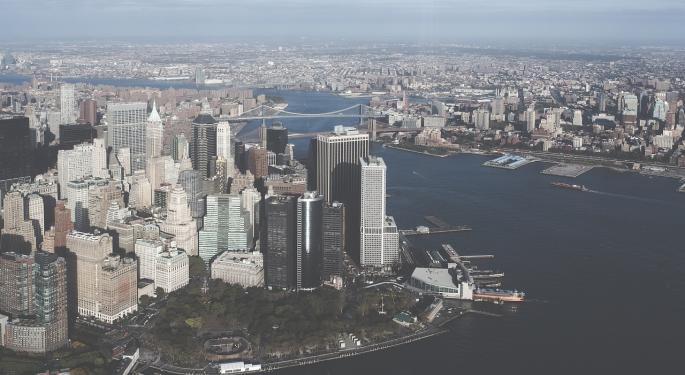 Real estate crowdfunding platform CityFunders lets investors take advantage of New York City's lucrative real estate investment opportunities. Instead of millions of dollars, investors can have skin in the NYC real estate game for as little at $5,000 per share.
Benzinga spoke with CityFunders co-founder and CEO, Dave Behin, about the platform and how it works.
Related Link: Exclusive: STORE Capital CEO Chris Volk On Why Restaurants Still Rule And The Business Of REITs
Benzinga: What type of real estate investments does the CityFunders platform offer?
Dave Behin: Investments are either debt of real estate in New York City, or the equity component of that real estate.
We seek solid real estate investments throughout New York City. Our team focuses on either originating first debt, or mezzanine debt, for businesses out there who are doing real estate transactions.
BZ: How about an example?
DB: As an example of a debt deal, we provided the mezzanine portion of the acquisition zone for a building on Mott Street in New York City.
The building had many under-market rents, and the business plan of the purchaser is to tear out the rents by cleaning up the building, buying out some tenants, bringing those rents to market and stabilizing the building.
BZ: What do you mean by "stabilize?"
DB: It can get confusing. When you stabilize a building, essentially, you've achieved your business plan.
So, if you buy a building that has, let's say, $200K in rental and you bring it up to $500K in rental by bringing up all the rent, after expending some capital expenses, you've stabilized the building.
BZ: How is an equity deal different from a debt deal in real estate?
DB: On equity, you're coming in on the sponsor side and not the lender side.
The returns are greater, but it's also a bit of a riskier investment. So, for that risk, you're also paid more.
BZ: What's an example of an equity deal?
DB: That's the other deal we have on the platform. That deal is close to 380 thousand square feet of new development in Long Island City, Queens.
Long Island City is one of those neighborhoods that, over the past maybe about 10–12 years has been dramatically on the rise.
We've invested $2.7 million of equity into this project, and we are selling off a million of that to the crowd.
BZ: So, only a portion of total debt is sold to CityFunders investors?
DB: Yeah, on our secured yields, we're always selling $1 million of each yield that we have.
We're a startup. We figured we'd start with $1 million each, and then on the next one, start breaking more and more of it.
BZ: How does the CityFunders system work from the point of view of the investor?
DB: Mechanically, it's actually very easy. You go onto our website and sign up.
In order to sign up and see the deals, you have to be an accredited investor. For that part, you actually "self-accredit."
You then peruse our website, which includes a couple of sections.
One is our academy (designed to) educate our investor base on what a real estate investment is.
Then, when you go to our explore section, you can review the investments that we have.
BZ: What are some of the components investors can view in the explore section?
DB: One is the private placement memorandum, which summarizes the deal, talks about the building and about the finances.
It discusses the sponsor's business plan and explains to any investor who's considering putting money into that deal what the sponsor is going to do to make money.
BZ: Anything else?
DB: I think one of the most crucial parts of understanding a deal is not just the metrics of the deal, but really understanding what's going on in the neighborhood.
Is the neighborhood on the rise? What types of people are coming in? What types of retailers are coming into town?
For New York City, understanding the neighborhood is critical to understanding the path, ultimately, of that investment.
Finally, we discuss the sponsor. At the end of the day, the sponsor is key.
Related Link: Real Estate Investors: Watch This Spin Off
BZ: What about when the investor is ready to invest?
DB: It's actually a very simple process. (Investors) essentially click a button, and tell us how we can make certain that they're accredited.
Once they do that, they tell us how much they want to invest. As soon as their money is invested, they start earning interest.
At the time of this writing, Jim Probasco had no position in any mentioned securities.
Image Credit: Public Domain
View Comments and Join the Discussion!
Posted-In: CityFunders Dave Behin New York CityCrowdsourcing Success Stories Startups Exclusives Interview Best of Benzinga