Benzinga's M&A Chatter for Tuesday June 30, 2015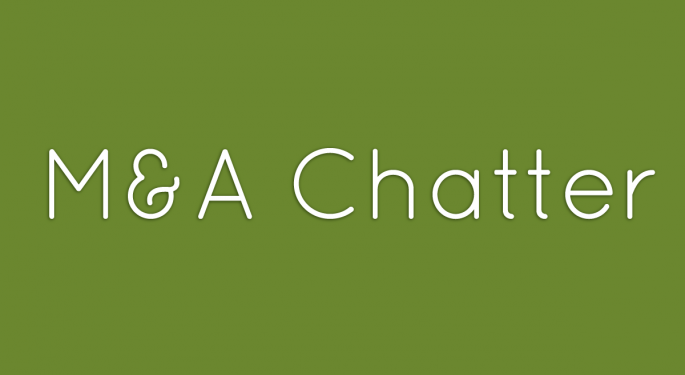 The following are the M&A deals, rumors and chatter circulating on Wall Street for Tuesday June 30, 2015:
Willis Group, Towers Watson Announce All-Stock Merger Valued at ~$18B
The Deal:
Willis Group Holdings (NYSE: WSH) and Towers Watson (NASDAQ: TW) announced Tuesday, an agreement, under which the two companies will combine in an all-stock merger of equals. The combined company will be named Willis Towers Watson.
The deal is expected to close by December 31, 2015.
Willis Group shares rose 4.5% Tuesday, closing at $47.45. Towers Watson shares fell 3% to close at $133.77.
Pep Boys to Review Strategic Alternatives, Including Potential Sale, Merger
The Review:
The Pep Boys – Manny, Moe & Jack (NYSE: PBY) announced Tuesday, that its Board of Directors has commenced a review of strategic alternatives to enhance shareholder value, including a potental sale, merger or other business combination or strategic transaction. Pep Boys Board said the strategic review process was decided on following receipt of interest from third parties.
A 2012 deal between Pep Boys and Gores Groups fell apart when Gores sought a delay due to Pep Boys cautious guidance. Gores had agreed to pay $15.00 per share for the automotive aftermarket retailer.
Pep Boys shares rose $0.08 Tuesday, closing at $12.24.
Hearing Unconfirmed Chatter Dorrance Family Hired Advisors to Investigate Possible Sale of Campbell Soup
The Rumor:
Shares of Campbell Soup Company (NYSE: CPB) spiked higher Tuesday, on unconfirmed takeover chatter that the Dorrance family, led by 17% shareholder Mary Alice Dorrance Malone, has hired a top advisor and is considering options regarding a sale of the company. According to sources, a deal could be valued at close to $19 billion.
Campbell Soup declined comment on the rumor.
Campbell Soup shares gained 2% Tuesday, closing at $47.99.
Land and Buildings Pushes MGM to Increase Shareholder Value
The Investor Letter:
Shares of MGM Resorts International (NYSE: MGM) spiked higher Tuesday on following announcement by shareholder Land and Buildings, that they had sent a letter to MGM's Board, suggesting potential steps the company could take to enhance shareholder value. Among these, a rumored Wynn Resorts Ltd (NASDAQ: WYNN) and MGM Merger would have "extraordinary synergies and we hope that should a merger be completed MGM would adopt Wynn's commitment to operational excellence and balance sheet discipline."
Shares of other casino issues, including Las Vegas Sands Corp. (NYSE: LVS) and Melco Crown Entertainment Limited (NASDAQ: MPEL) also rose following the Land and Buildings release.
MGM shares gained almost 4% Tuesday, closing at $18.25, Wynn closed at $98.67, up 5%, LVS shares rose almost 5%, to close at $52.57 and Melco shares gained almost 10%, closing at $19.63.
Another Twitter Rumor
The Rumor:
Shares of Twitter, Inc. (NYSE: TWTR) surged higher Tuesday on renewed takeover chatter, this time involving Facebook, Inc. (NASDAQ: FB). Google (NASDAQ: GOOGL) has also been a rumored suitor for Twitter, while Carl Icahn and Bill Ackman have been mentioned as potential large stakeholders in recent weeks.
Spokespersons for Twitter and Facebook did not respond to requests for comment on the rumor.
Twitter shares gained almost 6% Tuesday, closing at $36.22.
View Comments and Join the Discussion!