Exclusive: Community Bank CEO Sees Fed Move In September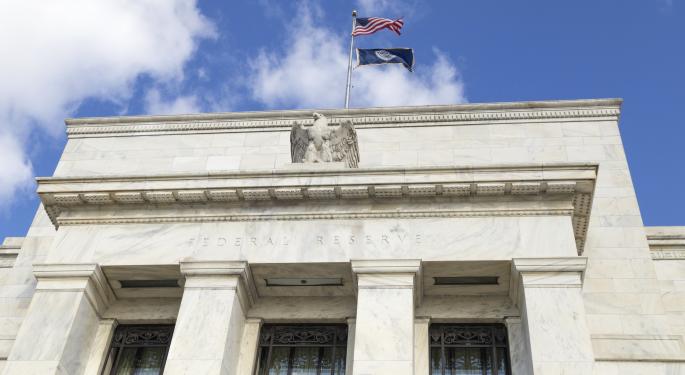 Kevin Cummings in the CEO of Investors Bank. He was recently a guest on #PreMarket Prep, a daily trading idea radio show hosted by Joel Elconin and Dennis Dick.
The chief of a New Jersey-based community bank expects the Federal Reserve will raise rates in September, but it will be a "non-event."
"The fed I think has to raise rates in 2015," Kevin Cummings, chief executive of Investors Bancorp, Inc. (NASDAQ: ISBC) told Benzinga.
"We've said that at our bank for the last two years," Cummings said. "But I think you're going to see at least 25 basis points. September you're going to see it."
The Short Hills, New Jersey-based lender, with assets of about $19.37 billion, began a conversion from a mutual bank in 2005 and fully completed the process last year.
Related Link: The Latest Fed Dot Plot Projections
Cummings figures the widely expected rate hike will be "a non-event" for the economy.
For banks, "it's more about the steepening yield curve," Cummings said. "If it steepens, there's more opportunity for net interest income."
The curve is typically defined as the difference between two-year and 10-year U.S. government debt and it's been flattening of late as worldwide demand for Treasuries sends long-term rates lower.
Cummings, whose business is focused on suburban New Jersey real estate lending, noted that global events play a role in local business.
As for the national economy, "it's going to be a slow and steady slog."
"Without a fundamental change in tax policy, you're not going to get the explosion we saw in the Clinton years, the Reagan years," Cummings said.
View Comments and Join the Discussion!
Posted-In: Kevin CummingsEconomics Federal Reserve Exclusives Interview Best of Benzinga