This Company Has Been In Business Since The Civil War and Its IPO Is Today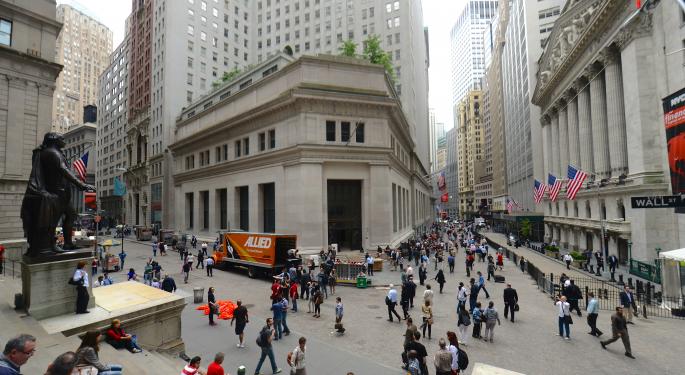 Milacron Holdings Corp (NYSE: MCRN), the No. 1 manufacturer and supplier of plastic processing technologies in North America, plans to raise $300 million in its IPO on Thursday. The company was previously listed on the NYSE under the symbol MZ in 2008, but began trading on the OTC market when its market cap dropped below $75 million.
After filing for bankruptcy, it was bought over by distressed debt investors. Milacron priced 14.3 million shares at $20.
Milacron opened in 1860 in Cincinnati, Ohio, to manufacture tool and die sets for mills, expanding into development of other metal processing machinery over time. After being a leading supplier in World War II, Milacron began manufacturing injection molding equipment for plastics, growing through acquisition.
After filing for bankruptcy protection in 2009, distressed debt investors Avenue Capital and DDJ capital bought Milacron's assets for $175 million. The company cleaned up its balance sheet and was sold in 2012 for almost $200 million to private equity firm CCMP.
Through capital investments in machinery, the company expanded into emerging markets China and India, operating three units: Advanced Plastic Processing Technologies (APPT), Melt Delivery, and Control Systems and Fluid Technologies.
Based on research from Global Industry Analysts, Inc., "management estimates that the annual global market for plastic processing machinery is currently $25 billion and is expected to reach $31.1 billion by the end of 2017, reflecting a CAGR of approximately 7.1 percent."
Milacron sells its products in over 100 countries on six continents and plans to leverage its leading market position, customer base, management team, and efficient cost structure and operating process to solidify its market dominance.
Financials
The company's sales have grown year-over-year since 2012. Sales from 2012 to 2014 grew from $571.7 million to $1.21 billion in 2014. Revenue decreased slightly in the first quarter this year to $279 million from $280 million.
The bulk of the company's costs from cost of sales and manufacturing margins have grown year-over-year in line in revenue. Milacron's net losses have fluctuated and it still has yet to make a profit since April 20, 2012. Net losses from 2012 to 2014 shrank from $(21.0) million to $(14.8) million at the end of 2014. The majority of Milacron's earnings come from its APPT segment.
Milacron has $62.8 million in cash, $1.74 billion in total assets, and $1.39 billion in total liabilities, of which $1.02 billion is in long-term debt.
On May 14, the company did a debt recap where it entered into a $730 million senior secured term loan facility with a 2020 maturity date. The company's principal shareholder CCMP currently owns 79.1 percent of the company and after the offering will own 62.1 percent.
Pricing Info
Since Milacron's LBO and debt restructuring, the company has rapidly emerged as the top leader in its space by acquiring three companies, introducing new products, grown revenues, and increased its production capacities and reach globally.
Milacron estimates the net proceeds from this offering to be $276.3 million. The company intends to use the proceeds in the following manner:
Repay a portion of the outstanding term loan debt under the New Term Loan Facility
Repay up to $15 million of debt under the ABL Facility
The main underwriters on the IPO are BofA Merrill Lynch, Barclays, and J.P. Morgan. Milacron will list back on the NYSE under the ticker MCRN.
Interested in knowing more about IPOs? Check out Marketfy, free for 15 days!
View Comments and Join the Discussion!
Posted-In: MilacronNews IPOs Best of Benzinga