Benzinga's M&A Chatter for Wednesday June 24, 2015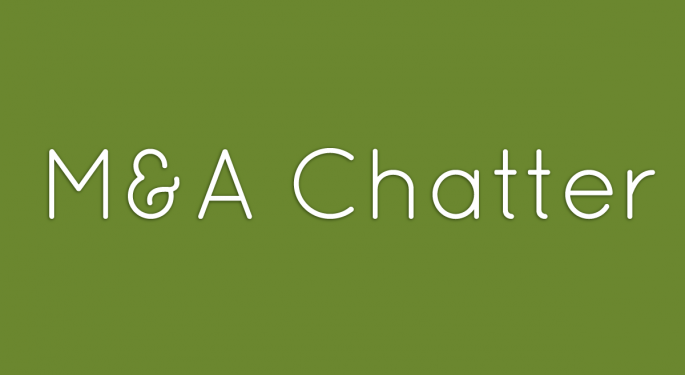 tmoThe following are the M&A deals, rumors and chatter circulating on Wall Street for Wednesday June 24, 2015:
Zimmer Holdings Closes Merger with Biomet
The Deal:
Zimmer Holdings, Inc. (NYSE: ZMH) announced Wednesday, that they have completed the acquisition of Biomet in a cash and stock deal currently valued at approximately $14.0 billion, and has changed its corporate name to Zimmer Biomet Holdings, Inc. The company will begin trading on the NYSE with the ticker symbol 'ZBH' beginning June 29, 2015.
Zimmer confirmed the deal completion following the receipt of U.S. FTC clearance.
Zimmer Holdings shares closed at $113.52 on Wednesday, up $0.84.
Fiat Chrysler CEO Discusses GM Merger Prospects
The CEO Comments:
Fiat Chrysler Automobiles N.V. (NYSE: FCAU) CEO Sergio Marchionne, said Wednesday that his company was a long way from making an offer to General Motors Company (NYSE: GM) shareholders. Marchionne, speaking at an event outside Milan, where the company presented the new Alfa Giulia, would not respond to a question on the possibility of making a hostile bid for GM, according to Reuters.
Marchionne said no contact had been made with the US automaker. GM CEO Mary Barra has already rejected the idea of a merger.
Fiat Chrysler shares fell 2% Wednesday, closing at $15.47, while GM shares fell 3%, to end the day at $35.16.
Proposed Staples, Office Depot Merger in Jeopardy Following Blocking of Sysco US Foods Deal
The Rumor:
Shares of Staples, Inc. (NASDAQ: SPLS) traded lower Wednesday, following a NY Post report that their $6.3 billion merger with Office Depot, Inc. (NYSE: ODP) is less likely, now that Federal Judge Amit Mehta ruled that the Sysco merger with US Foods is temporarily halted until a full trial is held. US Foods has stated it would not extend the merger agreement in case of a halt.
The FTC is expected to rule on the Staples-Office Depot merger in Q4.
Staples shares lost 4.5% Wednesday, to close at $15.85, while Office Depot shares fell 2.5%, closing at $8.89.
View Comments and Join the Discussion!