EBay To Ban Confederate Flag Listings; Amazon Sales Skyrocket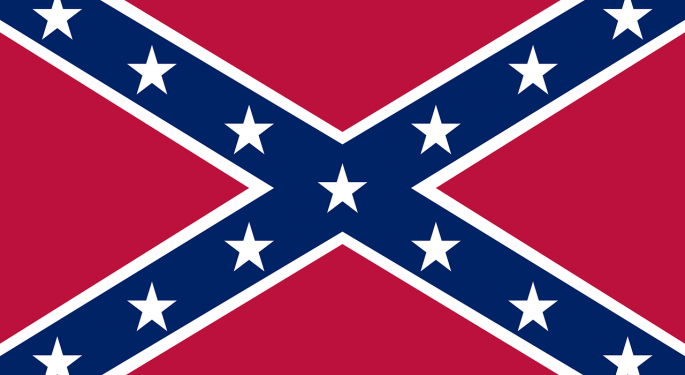 EBay Inc (NASDAQ: EBAY) will ban sales of Confederate flags and "related items" from its website.
Reuters reported Tuesday afternoon that eBay called the flag a "symbol of divisiveness and racism."
On Monday, Wal-Mart Stores, Inc. (NYSE: WMT) and Sears Holdings Corp (NASDAQ: SHLD) said its would stop selling the flag.
Amazon.com, Inc. (NASDAQ: AMZN), meanwhile, has seen interest in the Confederate flag surge.
The first five items on the site's "movers & shakers – lawn and garden" section are various versions of the Confederate flag. Movers & shakers is described as Amazon's "biggest gainers in sales rank over the past 24 hours. Updated hourly."
The top item has seen it sales rank increase more than 3,500 percent, while the other items have risen more than 1,000 percent.
Editor's note: Around 2:40 p.m. ET, Amazon announced it will pull Confederate flag merchandise from its website.
The Current Controversy
The flag has come under fire since last week's shootings at a church in Charleston, South Carolina, that killed nine African Americans. The suspect, a caucasian 21-year-old male named Dylan Roof, has been seen in photos proudly sporting the Confederate flag. The flag's history has since been criticized by several politicians, media outlets and social media.
Since the tragedy, South Carolina is considering removing the flag. South Caronlina Governor Nikki Haley has publicly called for the flag that flies in front of the State House to be taken down. Despite the flag's history as a symbol "long revered" by Southerners, the shooting has emphasized the controversial past; Haley stated that following the church massacre, the flag recalls a "deeply offensive symbol of a brutally offensive past."
Public Responses And Moving Forward
Salesforce.com, inc. (NYSE: CRM) CEO Marc Benioff recently tweeted, "I agree @MittRomney: Take down the #ConfederateFlag at the SC Capitol. To many, it is a symbol of racial hatred. Remove to honor victims." Benioff was the first CEO of a public company to lash out against Indiana's controversial religious freedom law.
South Carolina announced midday Tuesday that it plans to introduce a resolution same-day to officially debate the removal of the flag at the State House, reported Reuters.
Image Credit: Public Domain
Posted-In: Confederate flag Dylan Roof Marc Benioff Nikki HaleyNews Psychology Retail Sales General Best of Benzinga
View Comments and Join the Discussion!