Benzinga's Weekend M&A Chatter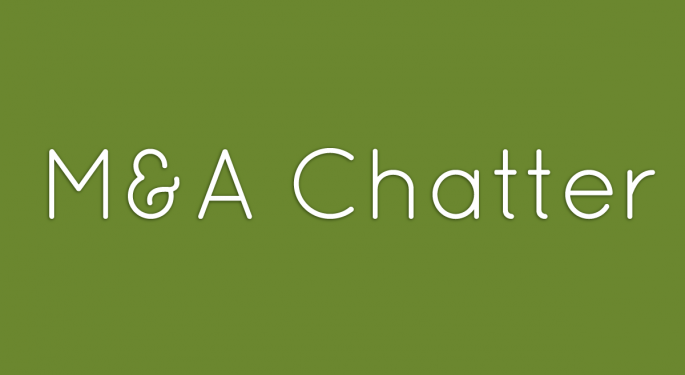 The following are the M&A deals, rumors and chatter circulating on Wall Street for Friday June 19 through Sunday June 21, 2015:
Cigna Rejects Anthem Offer of $184/Share in Cash, Stock
The Offer:
Anthem, Inc. (NYSE: ANTM) announced Saturday, that it has submitted a non-binding proposal to acquire Cigna Corporation (NYSE: CI) for $184 per share in cash and stock. Cigna shareholders would receive consideration consisting of approximately 31.4% Anthem shares and 68.6% cash.
Anthem says it has been engaged with Cigna to explore a potential combination since August 2014 and expects a deal could be reached by the end of June 2015.
Cigna on Sunday, announced that its Board had rejected the proposal as inadequate and not in the best interest of shareholders.
Cigna shares closed at $155.26 on Friday and traded at $156.40, after-hours.
Aetna Makes Offer from Humana, According to Sources
The Rumor:
Aetna Inc. (NYSE: AET) has made a bid to acquire Humana, Inc. (NYSE: HUM), according to sources reported by the Wall Street Journal. Humana reportedly hired Goldman Sachs to handle potential offers. There is no indication of the amount of Aetna's offer.
The Journal first reported on May 29 that Humana had received takeover interest from Aetna and Cigna.
Humana shares gained 1.5% Friday, closing at $202.31.
Texas Instruments Held Takeover Talks with Maxim, Freescale, According to Sources
The Rumor:
Shares of Texas Instruments Inc (NASDAQ: TXN) and Maxim Integrated Products Inc (NASDAQ: MXIM) spiked higher late Friday, on a report from Reuters, that TI had held talks acquire Maxim, according to sources. TI also reportedly held talks with Freescale Semiconductor Ltd (NYSE: FSL), prior to NXP Semiconductors' (NASDAQ: NXPI) deal for Freescale.
TI shares gained $0.29 Friday, to close at $54.51. Maxim shares rose more than 3%, closing at 25.56.
Medtronic Acquires Aptus Endosystems for ~$110M
The Deal:
Medtronic plc (NYSE: MDT) announced Friday, it has acquired the assets of privately held medical device company, Aptus Endosystems, in a transaction valued at approximately $110 million. No other terms were disclosed.
Medtronics shares lost $0.01 Friday, closing at $76.71.
Williams Receives, Rejects Unsolicited All-Stock Proposal of $64.00/Share
The Offer:
Williams (NYSE: WMB) announced Sunday, that its Board of Directors has authorized a process to explore strategic alternatives following receipt of an unsolicited proposal to acquire Williams in an all-stock deal valued at $64.00 per share. The offer was contingent on Williams terminating its pending acquisition of Williams Partners L.P. (NYSE: WPZ).
Williams Board determined that the offer significantly undervalues the company, based on what Williams expects to achieve on a standalone basis and through other growth initiatives, which includes its pending acquisition of Williams Partners.
Williams shares lost more than 1% Friday, closing at $48.34.
View Comments and Join the Discussion!