Order Up! Fogo De Chão's Brazilian Steakhouse IPO Is Hot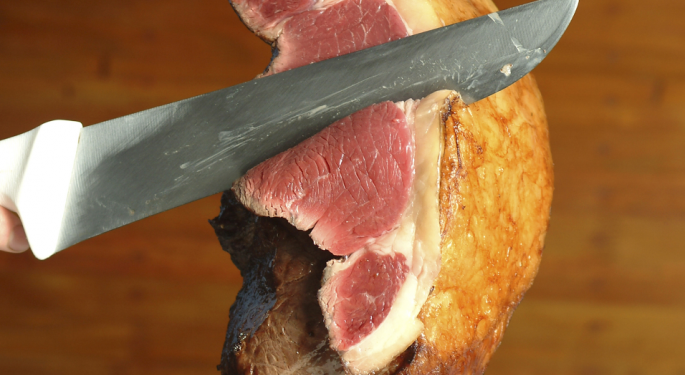 The IPO market for restaurants just keeps getting tastier and tastier.
Fogo de Chão (NASDAQ: FOGO), a Brazilian a steak house chain, plans to raise $76 million in its IPO on Friday. Fogo will be the first Brazilian restaurant chain to hit the public markets. The company will list on the NASDAQ under the ticker FOGO. Its 4.4 million shares priced at $20 on Thursday night, giving it a $500 million market cap.
The Concept
Invest in IPO shares before the stock hits the market with ClickIPO. Check it out here
Fogo de Chão started in 1979 as a churrascaria, or steakhouse, in Porto Alegre, Brazil by brothers Ari and Jair Coser. The company opened its first restaurant just outside Dallas, Texas in 1997. For the past 35 years, Fogo has served guests a unique "Journey to Brazil" dining experience that caters to all-you-can-eat meat lovers for $59.50. Guest can choose from 20 different cuts of meat which includes filet mignon, rib-eye, pork, lamb, and chicken seasoned and fire-roasted in Brazilian tradition and served hand-carved on skewers table side.
Related Link: Wingstop Starts Trading With A Bang
The concept is simple. On the table is a double-sided medallion colored red and green. When customers are ready to munch, they simply turn the medallion over green and the chefs, or gauchos, as they're called, bring out each cut of meat one by one. Whenever customers want to slow the process down or finish eating the medallion is turned over red. Guests can choose from a huge salad bar packed with seasonal vegetables, aged cheeses, and cured meats. Seafood choices, desserts and drinks are also offered.
The restaurant has grown into 37 locations that include 26 in the United States, 10 in Brazil, and 1 joint venture in Mexico. Fogo has won multiple "best of" restaurant awards from Brazil's most prominent lifestyle publication "Veja Magazine." Internationally, Fogo has won awards from Zagat, Nation's Restaurant News, and Wine Spectator in the U.S.
The company was purchased by private equity firm Thomas H. Lee Partners in 2012 for $172.1 million, valued at $400 million. Since being bought, the company has enjoyed strong revenue growth, opened 12 more stores, and turned a profit in 2013.
Financials
The company is experiencing strong growth and profits. Revenue has grown year over year. From 2012 to 2014, revenue grew from $202.4 million to $262.3 million. Fogo noted in its prospectus that the AUV (average unit volume) per store for its third year in business is $8.03 million in revenue on cash invested of 50 percent for an 8,500 square foot location.
A critical success factor in the restaurant business is the ability to control food and labor costs. The company is able to optimize these operating costs due to its unique business model. The sum of Fogo's food and beverage costs ($78.3 million) and compensation and benefits costs ($54.7 million) as a percentage of revenue were 50.7 percent. Based on an internal survey of its competitors, that is about 7.5 percent lower than the average within the full-service restaurant industry in the U.S.
Fogo booked net losses of $(17.92) million in 2012 and $(937) thousand in 2013. The turning point came in 2014 when Fogo produced net income of $17.27 million. Net income in the first quarter of 2015 increased by 63 percent to $4.51 million from $2.76 million a year earlier.
As of the first quarter for 2015, Fogo has about $19 million of cash on its balance sheet. Total assets are $460 million and total liabilities are $243 million. The company has almost as much debt as 2014 revenue. Thomas H. Lee owns about 96 percent of Fogo and after the offering will still own a majority of company.
Fogo believes it is only in its early growth stages and based on an analysis performed by Buxton, the company believes there's a long-term growth potential for over 100 new domestic stores with additional international restaurants. The company has demonstrated a long track record of new restaurant development by growing its restaurant count by more than 11 percent since 2010.
Fogo's growth strategy going forward is to grow its restaurant base and comparable store sales, improve margins by leveraging its infrastructure and focus on investments in smart hiring.
Posted-In: brazilian steak house Churrascaria Fogo de chaoNews Previews IPOs Top Stories Trading Ideas Best of Benzinga
View Comments and Join the Discussion!