No Deal In Thursday's Greek Bail-Out Talks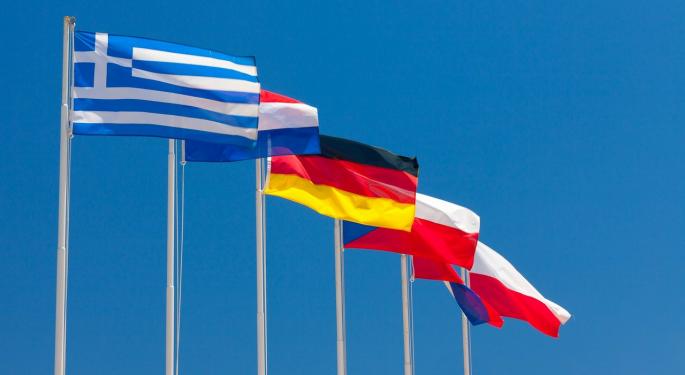 It was no deal again Thursday for Europe's finance ministers seeking an agreement to keep Greece in the eurozone.
European heads of state are expected at a meeting Monday called by European Council President Donald Tusk, according to multiple reports concerning the four-hour meeting.
A current bailout program expires June 30.
"It is time to urgently discuss the situation of Greece at the highest political level," Tusk said, according to Reuters.
Bank-Run
Meanwhile, a mini bank-run has unfolded in Greece, with depositors withdrawing about $2.27 billion in the past three days, according to multiple reports.
The bank-run so far amounts to about 1.5 percent of all corporate and household deposits in Greek banks, according to Reuters.
Related Link: ETF Investors Aren't Afraid Of A Greek Default
Emergency Funds Increased
The European Central Bank increased emergency funding available to Greek banks by about $1.25 billion to about $95 billion, according to The Guardian.
International Monetary Fund chief Christine Lagarde on Thursday quashed the potential for a grace period in a $1.82 billion loan repayment due June 30.
Related Link: Despite Deteriorating Talks, Bookies See Greece In Eurozone
Grexit Back As A Possibility?
Separately on Thursday, the New York Times reported growing acceptance for a possible Greek exit from the eurozone.
"Increasingly, economists and government officials in Europe have begun to accept that little more is to be gained in this struggle to get Greece to play by the rules," according to the Times.
Image Credit: Public Domain
View Comments and Join the Discussion!
Posted-In: Christine Lagarde Donald Tusk European Central Bank European Council GreeceEurozone Rumors Markets