TraderMinute's Brice Hogan Discusses New Income Trading Challenge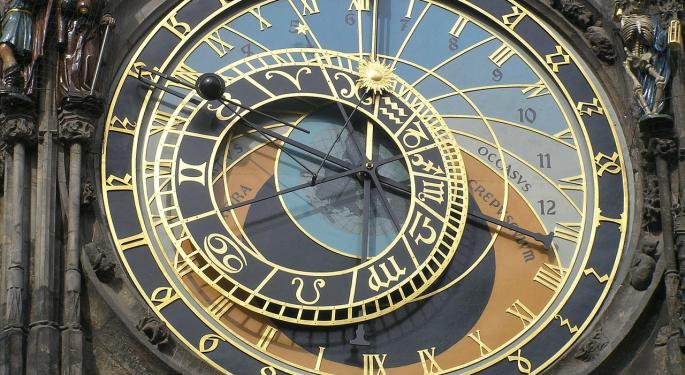 Since November 2012, TraderMinute has been running trading "challenges" every four months with the goal of giving members the tools to find success in the options market – regardless of their background, knowledge or ability.
Brice Hogan, director of business development at TraderMinute spoke with Benzinga about the company's unique approach to directional options trading and the launch of its new Income Trading Challenge.
Related Link: The New Kid On The Trading Block: TraderMinute And Its 100K Challenge
Benzinga: TraderMinute's "challenge" approach is unique. How does that work?
Brice Hogan: The idea of the challenge came from Jeff (Yaede), our hedge trader and company founder. Jeff was challenged by a friend to use options with a small-sized ($3,000) account, limit risk and return the gains that he wanted.
We're not telling people to trade. We're asking people to follow our trades, because we have a good track record. We know we can execute a certain way.
When Jeff chose that $3,000 amount, it was to illustrate the idea that we're not putting everything into the market. That $3,000 is only a small piece of a much larger investment portfolio. It illustrates the power that options have to be able to generate big gains with a small amount of risk.
It also illustrates the idea that we can generate a specific amount of income as well.
BZ: What's the difference between the original $100K (flash) Challenge and the just launched Income Trading Challenge?
BH: We felt the flash challenge that we currently run was geared toward a swing trader, somebody who is more of a short-term player in the market.
With this income challenge, we're trying to focus on how you can generate income with options.
By being able to do this in a challenge format over a year, our goal is to help people get 15 percent, 20 percent per year off their portfolio and also be able to trade what we're trading at the same time.
BZ: Will the Income Trading Challenge be a time limit challenge like the flash challenge?
BH: Yes and no. It's geared to be more of an ongoing thing. I think the goal, if you had to put a time limit on it, would be a year or year-ish.
The goal is to hit that 15 – 20 percent target. That's the challenge. That's the goal for our members, through that timeframe.
However, it's more of an ongoing process to help people continue to learn how to use the strategies and apply them so they're constantly generating income.
Related Link: Debunking The Option-Trading Myth Of Zero Sum
BZ: Since many people who invest for income tend to be older investors, how will the Income Trading Challenge appeal to them?
BH: The idea behind the strategies in the Income Trading Challenge is that it is a way to reduce risk.
For somebody who is older, one of the most conservative strategies out there is covered calls. You're usually buying those stocks for long-term appreciation. A covered call strategy helps to cogenerate off those dips in the market, more where you can amp up your returns by doing that. I think that's a built in protection.
We're going to use a couple of the different strategies in order to be able to make sure that we manage the risk and try to maximize the reward.
At the time of this writing, Jim Probasco had no position in any mentioned securities.
Image Credit: Public Domain
Posted-In: $100 (flash) Challenge Brice Hogan Income Trading Challenge Jeff YaedeTop Stories Exclusives Trading Ideas Interview Best of Benzinga
View Comments and Join the Discussion!