Why Investors Aren't Flocking To Saudi Arabia's Newly Opened Stock Market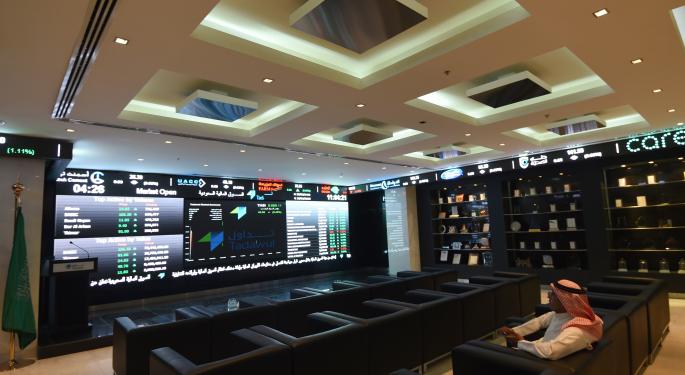 Pictured above: Saudi investor monitors the stock exchange at the Saudi Stock Exchange, or Tadawul, on June 15, 2015 in the capital Riyadh. FAYEZ NURELDINE/AFP/Getty Images.
The Kingdom of Saudi Arabia allowed foreign investors access to its stock market for the first time on Monday. But capital didn't flow in as expected, with foreigners only buying shares in five Saudi firms out of hundreds of publicly traded companies.
The country's primary index, the Tadawul, slipped as domestic investors sold off high-priced Saudi stocks and international investors refused to buy them up.
Benzinga spoke with Ilya Feygin, Managing Director at WallachBeth Capital, about the Kingdom's decision to open its stock market and the dearth of international interest.
Why Now?
Feygin believes that Saudi Arabia's decision to give foreigners access to its companies' stocks is at least in part due to a recent announcement by MSCI that it would look to add the Kingdom to its emerging markets index. The addition, according to Feygin, could happen as soon as 2017.
Feygin says that the regulatory and exchange environment of a market typically needs to be gradually prepared for inclusion in the index, which is usually accompanied by substantial levels of foreign investment.
He also highlights the fact that the Saudi stock market has been performing well of late. According to him, developing economies typically open their doors to international investment when share prices are up, as foreigners are usually willing to pay more than domestic residents.
In addition, Feygin notes that the political climate in Saudi Arabia is changing. With the country seeking to engage more with western allies, financial openness could signal a willingness for cooperation.
He doesn't believe that an immediate need for capital motivated the decision.
Playing The Waiting Game
According to Feygin, foreign investors are "still very cautious, [wanting] to see how the market develops" before exposing themselves to it. They'll need to see "more trading and liquidity," he says, before putting their money in Saudi companies.
In addition, Feygin sees very little interest in taking on single-country risk, particularly in the Middle East and even more particularly in the Kingdom. And he points out that ETFs, which are often popular methods of investing in emerging markets, do not provide a logical alternative in this case. The Market Vectors Gulf States (NYSE: MES) and WisdomTree Trust (NASDAQ: GULF) ETFs are both very small ($16.7 million and $32.5 million respectively) and are weighted primarily in the U.A.E., Qatar, and Kuwait.
The government's regulatory policies only complicate matters. To obtain a license, a firm must have "five years of experience" and at least $5 billion in assets. Therefore, the Kingdom is strongly limiting who can invest in its companies to large, established funds.
Feygin thinks that loosening these strict requirements would help attract more capital, and indeed he expects such action over the next several years.
Lastly, Feygin notes that the current state of Saudi markets isn't exactly helping encourage investment. "The valuation...is not cheap relative to other emerging markets. [The Tadawul] is trading at 17x estimated earnings, while emerging markets overall are trading at 12x estimated earnings." Saudi companies aren't extremely expensive, he says, but they definitely aren't cheap.
Nevertheless, despite the current lack of foreign investment in Saudi companies, Feygin and other experts expect to see increased interest over time, especially if the country is added to the iShares MSCI Emerging Markets Indx (NYSE: EEM). Investors should take care, therefore, to not ignore the Kingdom's newly opened stock market.
View Comments and Join the Discussion!
Posted-In: News Emerging Markets Specialty ETFs Emerging Market ETFs Events Top Stories Economics Exclusives Best of Benzinga