Benzinga's M&A Chatter for Tuesday June 16, 2015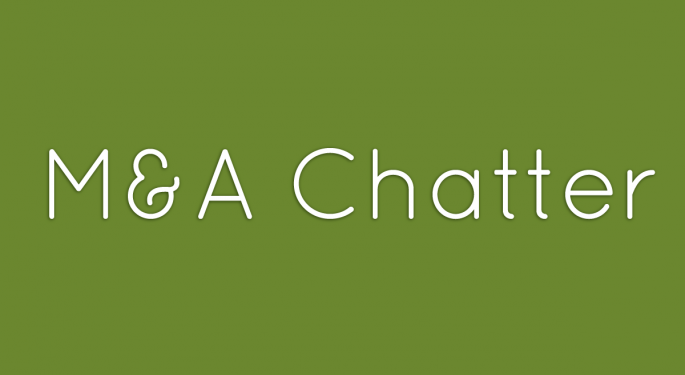 The following are the M&A deals, rumors and chatter circulating on Wall Street for Tuesday June 16, 2015:
Blackstone, Carlyle Group in Joint Bid to Acquire NCR for $10B Including Debt
The Rumor:
Blackstone Group LP (NYSE: BX) and Carlyle Group LP (NASDAQ: CG) are said to be preparing a joint offer for NCR Corp (NYSE: NCR), in an LBO valued at more than $10 billion, including debt, according to sources reported by Reuters. Apollo Global Management LLC (NYSE: APO) Thoma Bravo LLC are reportedly also considering offers for the manufacturer of cash registers.
Activist Jana Partners took an initial stake of 7.1% in February. In April it was reported the company was exploring strategic options.
Spokespersons for NCR, Carlyle and Blackstone did not respond to requests for comment.
NCR shares rose 10.71% Tuesday, to close at $34.73.
Hearing Unconfirmed Market Chatter of Potential Merck Bid for Alkermes
The Rumor:
Shares of Alkermes plc (NASDAQ: ALKS) spiked higher Tuesday on unconfirmed market chatter of a potential bid from Merck (NYSE: MRK). The offer is said to be $12.4 billion, according to sources.
Alkermes declined comment on the rumor. Merck did not respond to request for comment.
Alkermes shares gained 10% Tuesday, to close at $64.52.
Metalico Agrees to Sell Company to Total Merchant for $105M
The Deal:
The Board of Directors of Metalico, Inc. (NYSE MKT: MEA) has agreed to sell the Company to Total Merchant Limited for approximately $105 million in cash, including a payment to Metalico's stockholders of $0.60 for each share of Metalico common stock owned by them as of the date of closing.
The deal is expected to close in Q3 of 2015.
Metalico shares gained 48% Tuesday, closing at $0.55
Details of Coty Acquisition of P&G Beauty Business to be Finalized in 2 Weeks
The Rumor:
Shares of Coty Inc. (NYSE: COTY) rose to all-time highs on Tuesday, on a report from Reuters that its acquisition of P&G's (NYSE: PG) beauty business for $12 billion may be finalized in two weeks or more, according to sources. The transaction would be completed through a Reverse Morris trust, for tax purposes.
The NY Post reported on Monday, that Coty had acquired P&G's beauty products business for $12 billion.
Coty shares gained more than 19% Tuesday, closing at $31.08.
Cinedigm May be Attracting Bids from Multiple Suitors
The Rumor:
Shares of Cinedigm Corp. (NASDAQ: CIDM) Spiked higher Tuesday, on a report from Bloomberg that they have hired Evolution Media Capital to assist in handling potential offers, according to sources. Cinedigm is said to have received interest from both domestic and international entertainment companies looking to bolster their digital strategies or to gain a public stock listing, said one of the people, with at least two of the companies submitting an offer.
Relativity Media is said to be one of the companies showing an interest.
Shares of Cinedigm gained 4.5% Tuesday, closing at $0.92.
View Comments and Join the Discussion!