Ain't Too Proud To Pitch: Branson, Gilbert & Others Discuss Entrepreneurship In Detroit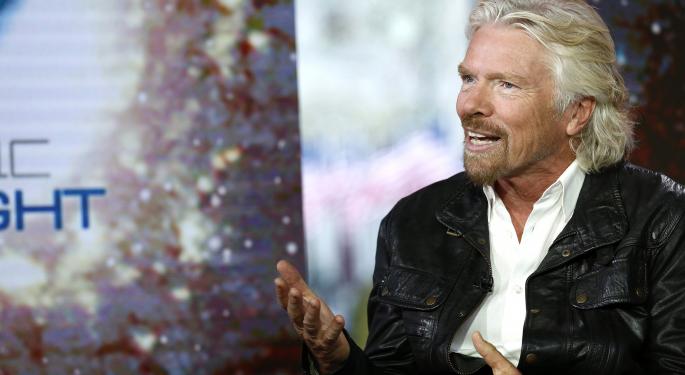 The 11th floor of the Taubman Center in Detroit looked like a jumbo jet Friday afternoon.
The auditorium was a long, hollow, tube-shaped space with Virgin Atlantic air hostesses lined the back of the room, garbed in the company's crisp, red uniforms.
Virgin Group founder Richard Branson sat at the front of the room, as the seasoned pilot.
But perhaps the most striking feature of the 'Ain't Too Proud To Pitch' entrepreneurship panel was the rows upon rows of passengers who came along for the ride. Some were young; others old. Some wore three-piece suits; others sat comfortably in t-shirts and jeans.
But they all had the same excited glow in their eyes—one of humble determination. Detroit's revitalized business class was eager to see where Branson might take them.
The renowned English billionaire sat on the 'Ain't Too Proud To Pitch' panel in celebration of Virgin Atlantic's initiation of direct round-trip service between Detroit and London. He was joined by Quicken Loans Chairman Dan Gilbert, Shinola Marketing Director Bridget Russo, and Digital Laundre founder Adriel Thornton. The four entrepreneurs shared their advice and experiences with with an audience excited to learn.
Richard Branson, Founder of Virgin Group
Branson stressed repeatedly to the crowd that risk and entrepreneurship go hand-in-hand. "You can't be afraid to fail," he said. "There's a very thin dividing line between success and failure."
The world-class businessman also wanted Detroit entrepreneurs to be unafraid of unconventional thinking. "I was dyslexic," he told them, "so I was never good at traditional schooling. But that let me look at things a bit differently."
He also encouraged people to start experimenting with their ideas at a young age. "If you start early," Branson said, "you can fail and still have time to pick yourself back up and start again." He expressed concern that older entrepreneurs often don't have sufficient time to devote to both their businesses and their families.
Finally, Branson highlighted the importance of keeping employees happy. He had just recently announced that all Virgin Airlines employees—both men and women—would be eligible for up to a year of paid parental leave. "I know how hard it is to be working and having kids," he empathized, mentioning his own three grandchildren. "American companies definitely should have longer holidays."
Dan Gilbert, Chairman of Quicken Loans
Gilbert talked extensively about the role of his Quicken Loans family of companies in creating a thriving entrepreneurial ecosystem within Detroit. "We need to create a garden where small businesses are going to grow and prosper." Gilbert said that he views his own job as providing the "water and sunlight" needed to help that garden grow—fiber lines, rail lines, office space, infrastructure, and venture capital funding.
Gilbert also described the unique opportunity that entrepreneurs have in Detroit to leave a lasting footprint. "If you're smart, you're going to be successful in New York, Chicago, or Detroit. It doesn't matter," he admitted. "But when you come here, you can really impact this city and watch things grow around you."
Bridget Russo, Director of Marketing at Shinola
Russo discussed Shinola, the hand-crafted watch, bicycle, and leather goods manufacturer that has become one of Detroit's most iconic new brands since its founding three years ago.
She highlighted the "maker culture" that Shinola exemplifies, which she believes is a signature of Detroit dating back to the early 20th century. She suggested that this concept could be a useful branding tool for many of the young start-ups in the audience.
Russo also talked about the impact that businesses can have on the landscape of a city. She focused on Detroit's Midtown, which Shinola calls home. "Everyday there are new things popping up in the neighborhood," she said enthusiastically. "I'm from New York, so I miss having a walking neighborhood, but I think we're finally close to getting that here."
Adriel Thornton, Founder of Digital Laundre
Thornton defined a problem that he believes is particularly common among Detroit entrepreneurs. "We're very driven and creatively minded," he said, "but we don't think linearly."
According to Thornton, the creative process typically involves random, disorganized thinking. "When you have a business, however, it's very linear. You have to have a strategy."
He also discussed Detroit's musical history as a means of attracting people to the city. "Motown, garage rock, hip hop, techno.....We've really created a mythos around this place. I don't think we appreciate how powerful that is as a commodity."
View Comments and Join the Discussion!
Posted-In: Adriel Thornton Bridget Russo Dan Gilbert Detroit Quicken LoansEntrepreneurship Startups General Best of Benzinga