The Pirate Boys Are Back In Town - 2 Tankers Attacked In June Off Singapore Coast
Orkim Sdn Bhd is a company designed to bring various marine related operations under one umbrella. Orkim is located in Kuala Lumpur, an area of high importance for your truly as I monitor Euonav's TI Europe Tanker off the coast of Singapore.
Orkim manages a fleet of 11 ships according their website and of those 11, two are suspected of being hijacked in early June. One was a victim of siphoning (Orkim Victory) and the other has not been transmitting location communications (Orkim Harmony).
Data from Marine Traffic shows that communication with Orkim Victory was lost on June 6th. The ship's last identifiable location was between Singapore and Batam: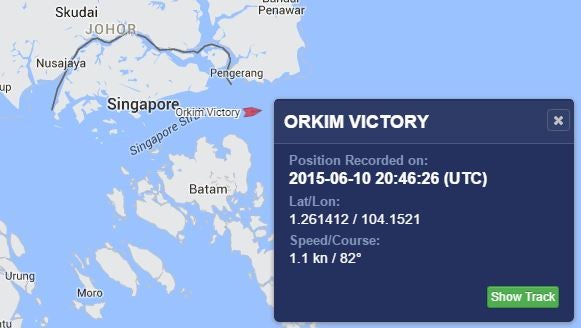 According to the incident report from ReCAAP (emphasis from Benzinga Pro):
"The perpetrators subsequently brought Orkim Victory to another location at approximately 15.2 nm southwest of Pulau Aur, Malaysia where a motor tanker with a white superstructure and a black hull (approximately 100 m in length and 2,000 GT) came alongside Orkim Victory; and siphoned off 770 metric tones of Automotive Diesel Oil (ADO). The siphoning took about seven hours and the suspected tanker was seen heading towards Pulau Matak, Anambas, Indonesia thereafter. The perpetrators left Orkim Victory at approximately 10.4 nm south-southwest of Pulau Aur, Malaysia after damaging all communication equipment, and robbing the crew's personal belongings. With the master's inputs, the MMEA deployed one helo, three ships and five boats to locate the suspected tanker. At the time of this report, we have yet to receive reports of the tanker being located."
This siphoning issue appears to have been popular since the beginning of the 2015 with 8 incidents being reported according to ReCAAP.
To make things more interesting, aside from Orkim Victory being snatched, siphoned, and basically left for dead, there is another ship facing a similar fate and it's Orkim's Harmony ship.
Harmony was hijacked on June 11 Southwest of Palau Aur, Malaysia and updates are sporadic, the ship has yet to be located and it is unclear what has happened since June 11 to Orkim Harmony.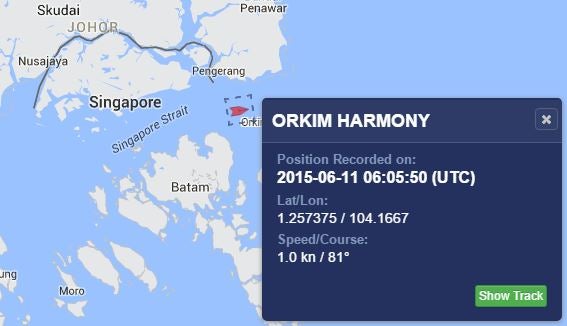 The most current reports state the Malaysian Maritime Enforcement Agency is working with the Indonesian Navy to locate Orkim Harmony.
Posted-In: News Commodities Markets
View Comments and Join the Discussion!