Could Bitcoin Save Athens?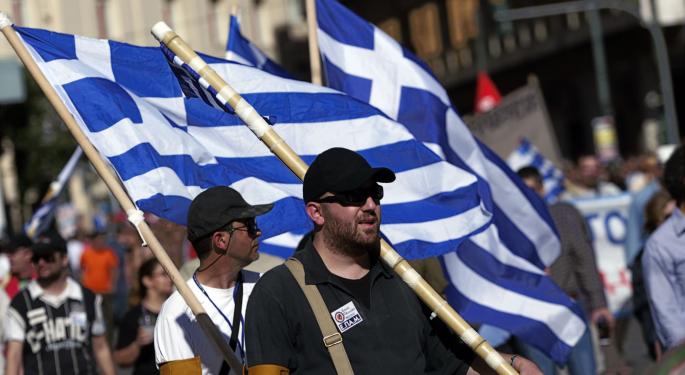 After the International Monetary Fund turned its back on debt negotiations with Greece on Thursday, many began to worry that the nation's efforts to appease creditors while reversing austerity cuts would prove to be fruitless.
With a €1.5 billion payment due at the end of this month, Greece is running out of time to release the bailout funding it needs to stay afloat.
Digital Currency To The Rescue?
Greek Finance Minister Yanis Varoufakis jokingly tweeted that the nation would adopt bitcoin if no deal was made on April Fool's day; but two-and-a-half months later with no agreement made, some analysts say that a cryptocurrency could be a viable solution.
Digi-Drachma
Some believe that Greece could create a digital currency backed by the nation's assets which would be used to maintain public sector salaries and pensions. The currency, dubbed "digi-drachma" would free up the nation's remaining euros for loan repayments and allow Athens to continue functioning without making any more unpopular austerity cuts.
Related Link: Greek Banks Struggle To Handle Deposit Outflows With Default Fears Rising
ECB Considers The Possibility
During debt negotiations, the European Central Bank considered a similar situation in which the nation paid its workers using IOUs. This idea was parallel to the one Varoufakis outlined in his April Fool's blog post; he said a digital currency, called FT coin, could be based on future tax revenue.
Just A Band-Aid?
The digital currency scenario might get Athens through its next loan repayment, but many say it would be a temporary fix for the nation's larger problem— debt. Greece's economy has been unable to sustain the nation's massive debt, so without some kind of reform, this problem is likely to repeat itself.
This has been the issue at the center of the nation's bailout talks as eurozone creditors want to see Greece stand on its own rather than leaning on bailout money in the years to come.
View Comments and Join the Discussion!
Posted-In: Cryptocurrency News Eurozone Forex Global Top Stories Markets Tech Best of Benzinga