Dick Costolo Resigns As Twitter CEO: Live Blog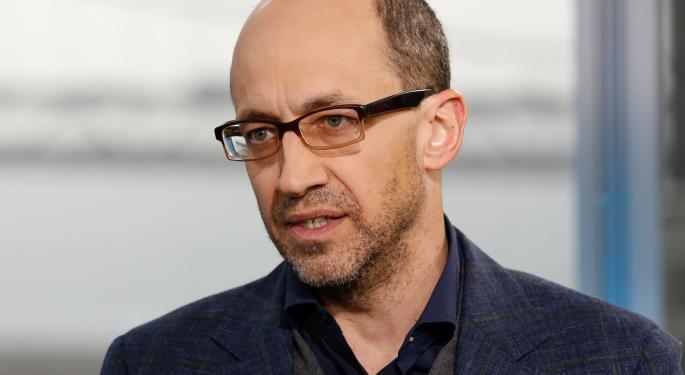 This afternoon, an SEC filing from Twitter Inc (NYSE: TWTR) revealed Dick Costolo will step down as the company's CEO; Jack Dorsey will step in as interim CEO. The company has since reaffirmed its Q2 2015 revenue outlook and said it will hold a live webcast to discuss Costolo's resignation.
The event will begin at 5:15pm ET. Below is a live blog of the event.
05:36:20pm: The call has ended.
05:35:03pm: Dorsey: "We're looking for someone who really uses and loves the product in every single way."
05:32:19pm: Costolo said that he personally felt the scrutiny of the company would intensify if he remained CEO while the search was going on.
05:31:11pm: Costolo: "I started this discussion with some of the board members in the last year. We decided after the most recent board meeting that we loved the team that had been put in place for some time."
05:30:27pm: Dorsey said that if Twitter builds a product people love, advertisers and customers will follow.
05:28:13pm: Twitter will consider all candidates -- internally and externally -- for its new CEO.
05:27:48pm: Costolo won't receive a severance package because there isn't one for someone who voluntarily steps down.
05:27:01pm: Dorsey said he's stepping in because of the belief he has in Twitter and its direction.
05:26:27pm: Costolo said the company is committed to maximizing shareholder value, but sees no reason why it can't achieve that as is, instead of through a merger.
05:24:56pm: Dorsey: There is no time table for when the new CEO will be announced.
05:24:10pm: Dorsey insisted this transition is not anything more than Costolo deciding to move on.
05:23:44pm: Jack Dorsey, interim CEO: "As he said, I will be assuming the role of interim CEO. My main priority is to facilitate a smooth transition." He said he also wants to ensure the continuation of all the good work Dick and his team have underway.
05:21:03pm: Costolo: "I really just want to thank the tremendously talented group of people I've gotten to work with.
05:20:32pm: Costolo said Twitter lucky to have Jack Dorsey fill in while the company searches for a permanent CEO.
05:19:50pm: Costolo said he initiated succession talks last year.
05:19:18pm: Costolo said he decided to step down. He said he believes now is the right time for Twitter to seek a new CEO.
05:17:22pm: The event has begun. Dick Costolo will speak during the call.
05:14:40pm: The event is about to begin.
05:11:39pm: Comedians are also chiming in:
i'm not sure how much difference jack dorsey replacing dick costolo as twitter ceo will make to users unless it means we'll have more charac

— andy levy (@andylevy) June 11, 2015
05:07:12pm: Some investors might be happy about Costolo's departure, but some -- including former colleagues -- have come to his defense.
I don't know anyone has had a harder job or been more committed to @twitter for the past 6 years than @dickc. His commitment was inspiring.

— April Underwood (@aunder) June 11, 2015
I owe so much to @dickc. He's one of the best people I've ever had the privilege to know, work for, and call friend. #ThankYouDickC

— Josh Grau (@grauface) June 11, 2015
Hey @dickc. You did a superb job. Twitter matters more than ever, and that's what really counts. We'll miss you dude :)

— umair (@umairh) June 11, 2015
04:42:55pm: Twitter will take questions on the call submitted via its platform directed to @TwitterIR using the hashtag #TWTRannouncement.
04:42:08pm: Dick Costolo has recently tweeted, "Welcome back, @jack !!"
04:40:01pm: Twitter shares are up 7 percent in after-hours trading.
04:30:35pm: The full Twitter 8-K filing is here, while correspondence including Costolo and Dorsey is here.
Posted-In: Dick Costolo Jack DorseyNews Management Tech Best of Benzinga
View Comments and Join the Discussion!