Public Storage Is 'Very Serious' About Issuing Debt To Fund Growth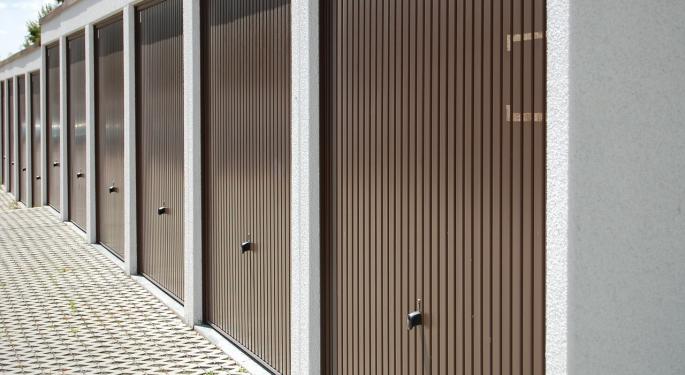 Public Storage (NYSE: PSA) CEO Ronald Havner and CFO John Reyes recently presented at the NAREIT Investor Forum and unveiled a radical new approach to managing the balance sheet – unsecured debt.
While $32 billion cap Public Storage carries an A-rating, Havner has been adverse to using debt, which has resulted in an underleveraged (fortress) balance sheet relative to its REIT peers. By way of example, there is currently only $58 million of secured debt on the Public Storage balance sheet.
However, strong self-storage fundamentals have resulted in a "happy problem" for Public Storage. The company has a pipeline of new development and property acquisitions which can't be properly funded from just cash flow and issuing preferred shares.
Tale Of The Tape: Past Year
Publicly traded self-storage REITs have been among the strongest REIT performers during the past few years, and the top four companies have also strong performers 2015 YTD.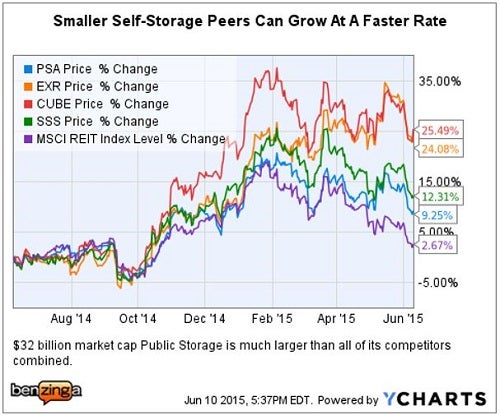 The MSCI REIT Index is a good proxy for the broader equity REIT sector, which is tracked by the Vanguard REIT Index Fund (NYSE: VNQ).
Related Link: REITWeek: RMR Managed REIT Executives Tout External Manager Deal
Public Storage also owns a 42 percent interest in $1.95 billion cap PS Business Parks Inc (NYSE: PSB), which operates 28 million square feet of office, flex and industrial space.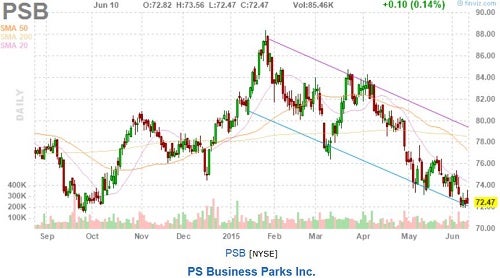 In general, office REITs have lagged the broader REIT sector, with shares of PS Business Parks being no exception, down approximately 15.5 percent during the past 12 months.
Public Storage's Big Picture
Public Storage operates a domestic self-storage portfolio of over 2,200 locations, containing 144 million SF of space, located across 38 states. Public Storage has also been active in Western Europe since 2006, operating 200 facilities containing approximately 10 million SF under the Shurgard brand.
Public Storage has recently increased its quarterly dividend by 21.4 percent from $1.40 to $1.70 per share.
REITWeek Presentation
Strong Fundamentals: Havner kicked off his comments noting "robust fundamentals," with customers moving in paying higher street rates while occupancy continues to increase.
Same Store: During Q1, same-store revenues increased 6 percent and same-store NOI increased 8 percent Y/Y and quoted street rates are running about 10 percent higher than Q2 2014.
Margins: Margins should continue to expand as "higher utilization rates of assets," (in part due to much better data), has resulted in Public Storage seeing "400 to 500 bps" improvement vs. 10 to 12 years ago.
Supply: While it is impossible to gauge self-storage stats precisely, because they are tallied under warehouse and industrial classifications in some jurisdictions, Havner believes that the new development is below the 400 to 500 properties per year required to keep up with U.S. population growth.
Business Drivers: Meanwhile, "death, divorce, disaster and dislocation" continue to be the main business drivers, and there has not been a noticeable decrease in business storage due to paperless office trends.
Growth: There is currently a $430 million development pipeline of about 40 projects totaling 3.5 million SF, and $125 million of acquisitions have been completed YTD. The ROIC on new development is running about 200 to 300 bps higher than acquisition going-in cap rates of approximately 5 percent.
Issuing Debt: When asked about "the right side of the balance sheet" and how serious Public Storage was about raising debt, the answer given by management was "very."
2015 Outlook: During 2015, Public Storage intends to issue some level of debt. While no size was specified, the fact that it is intended to help fund growth implies that $1 billion or so could fund the short-term program.
Debt Alternatives: Public Storage intends to explore private placement debt alternatives – such as with life insurance companies – which would allow Public Storage to negotiate non-standard terms on tenure and amortization. Some of the debt may be denominated in euros to act as a natural currency hedge for the Shurgard assets.
However, it was made clear by management that they are long-term operators of the real estate, and don't intend to "leverage up to get to 15 to 20 percent IRRs."
Image Credit: Public Domain
View Comments and Join the Discussion!
Posted-In: John Reyes MSCI REIT NAREIT Investor Forum Ronald HavnerREIT Events Top Stories Real Estate Best of Benzinga