REITWeek: RMR Managed REIT Executives Tout External Manager Deal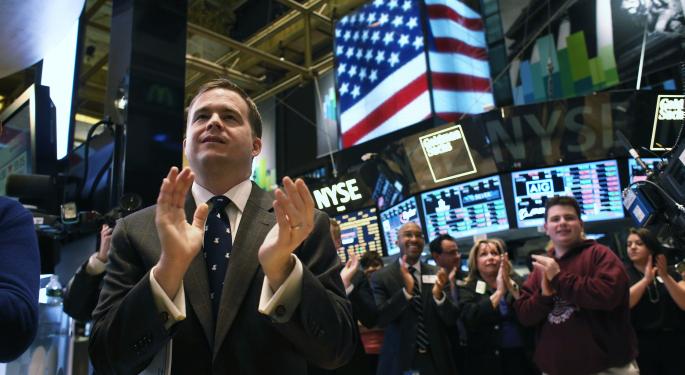 Leading up to NAREIT's Investor Forum, one of the biggest stories in the REIT world, was the intriguing announcement by controversial REIT Management & Research LLC, (RMR) external manager that they would be selling almost half of RMR shares to shareholders of four managed REITs:
Notably, these four REITs pay considerably higher yields than their respective REIT peers, partially due to sector real estate fundamentals and trends; but largely due to RMR's track record when it comes to investments and negotiated deals on behalf of the managed REITs.
Tale Of The Tape - 2015 YTD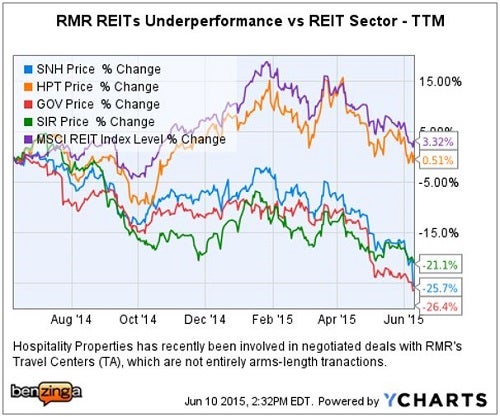 The MSCI REIT Index (RMZ) is a good proxy for broader equity REIT performance.
Related Link: What You Don't Know About REIT Management Could Cost You
RMR 4 Managed REITs Acquire 48.4 Percent Of Manager
Notably, regardless of the potential benefits, this was a deal which was not done openly with shareholder consent or approval.
These four slides highlight the terms of the deal presented to shareholders:

Source: RMR June 8 presentation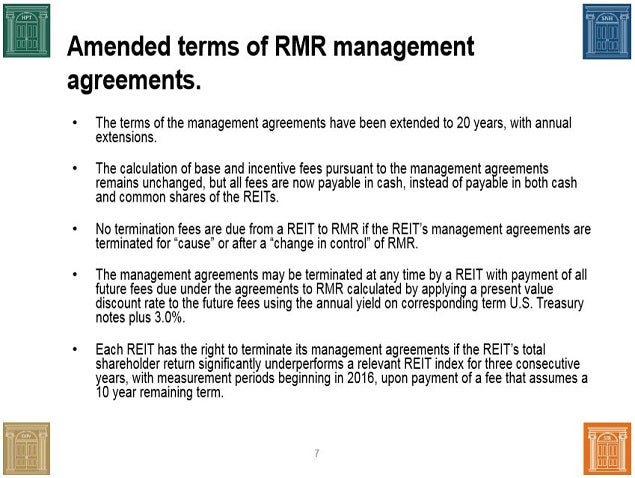 Source: RMR June 8 presentation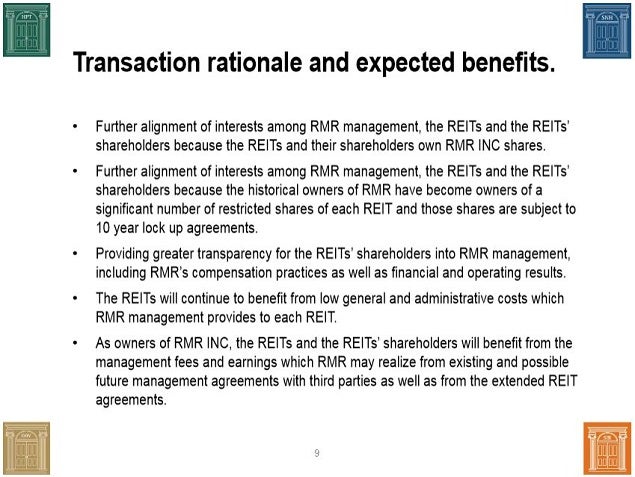 Source: RMR June 8 presentation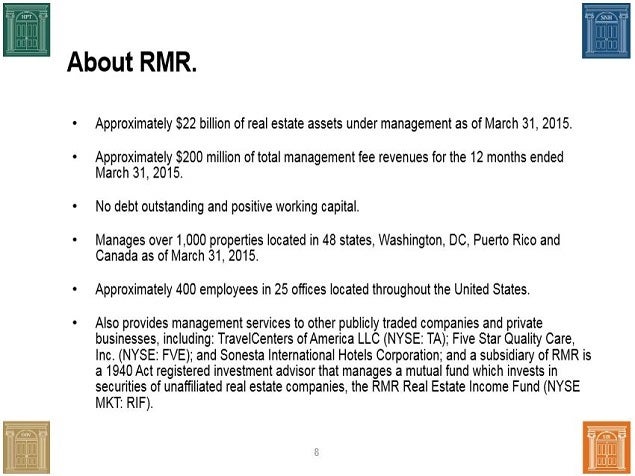 Source: RMR June 8 presentation
REITWeek Presentations
SNL Financial's Jake Mooney and Tom Yeatts attended the NAREIT Investor Forum presentations on June 9, given by RMR managed REITs and reported highlights, including:
Select Income REIT - President & COO David Blackman:
Q: "Who set the price on RMR?"
A: "RMR approached the REITs with a specific price, which it based on 50% of the termination fees in the pre-existing contracts."
Q: "Did any of the banks provide a valuation opinion?"
A: "As part of advising each of the REITs and the joint special committee, all of the banks took a look at the fairness of the transaction."
Regarding a question regarding the independent board members, Blackman replied that he had the "utmost confidence that they evaluated the transaction and considered all aspects of it."
When asked "why the RMR transaction, as detailed, was desirable relative to a 'simple internalization,' Blackman responded by touting the G&A efficiency of the current business structure."
In a post-presentation interview with SNL, "Blackman named alignment of interests and increased transparency as the main positives of the deal."
Senior Housing Properties Trust - President and COO David Hegarty:
SNL noted that Hegarty "who like other leaders at RMR-managed companies is an employee of RMR, said discussions surrounding the transaction began in April, when RMR approached the boards of its managed companies with a proposal."
"Hegarty cast the transaction as mutually beneficial: The REITs are able to benefit from RMR's performance, and the manager will increase its holdings of the companies' stock, with a commitment to hold onto the REIT ownership stakes for at least 10 years. RMR, in turn, will receive 20-year management contracts."
Hegarty also commented to SNL after the session, "We have a very complicated structure that has evolved over time," he said. "It would really be impossible to pull apart. This way is one way of getting to investors almost what they want."
Hospitality Properties Trust - President and COO John Murray:
SNL reported, "Murray, like Select Income's Blackman, touted the increased transparency and alignment of interest that will come with the deal. He noted that the REIT shares RMR will receive will be locked up for a 10-year period."
"In a post-presentation interview, SNL asked Murray what he would say to an analyst or investor who continued to take issue with the 10-1 voting rights RMR will have and the 20-year management contract. He responded by highlighting the company's long-term performance, its share-price appreciation and the dividends it has paid."
Murray explained to SNL, "If there are investors who don't like that, there are other lodging REITs that they can invest in."
Posted-In: REIT Management & Research LLC RMRNews REIT Management Events General Real Estate Best of Benzinga
View Comments and Join the Discussion!