Elon Musk: Utility Companies Have Nothing To Fear From Powerwall Batteries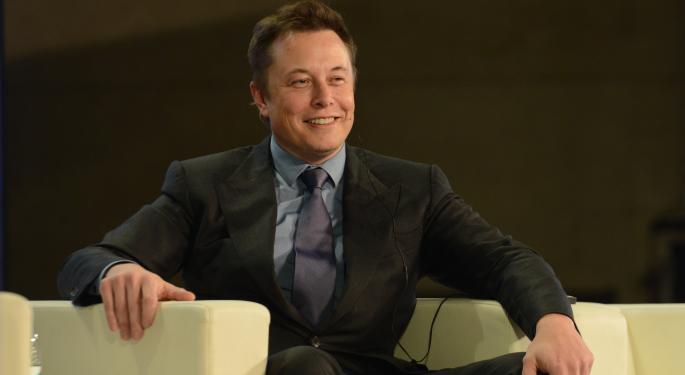 According to Tesla Motors Inc (NASDAQ: TSLA) CEO Elon Musk, utility companies have nothing to fear from the company's new Powerwall home batteries line. Musk spoke to a gathering of utility executives this week, easing their fears that Powerall batteries pose a threat to their business.
Why Utility Companies Should Be Cheering, Not Fearing
Musk assured utility executives that the vast majority of U.S. Powerall customers will be using the batteries only as a backup in the event of a conventional power failure rather than as a primary source of energy, which could cut into utility sales.
Not only did Musk argue that utility companies shouldn't be fearing Tesla, he explained that the rising popularity of electric cars, such as Tesla's Model S, will help triple demand for power in the next several decades. Musk believes that more than two-thirds of that increasing power demand will be met by traditional utility companies.
Related Link: Why This Startup Bought $125 Million In Tesla Batteries
Media Confusion
Musk also mentioned in his speech that the media has been confused from the very beginning about the role that Tesla's home battery pack will play in the typical household. According to Musk, Powerwall batteries are not a viable economic main power source for many homes and are better used as a way that homeowners can store energy and reduce dependence on utility grids.
Musk believes that up to 90 percent of Powerwall demand will be for the larger Powerpack system, which he pitched to utility companies as a way that they can store power and reduce reliance of expensive facilities that run only during times of peak demand.
The Future Is Solar
In addition to his remarks on Powerwall batteries, Musk, who is the chairman of SolarCity Corp (NASDAQ: SCTY), explained that he sees the majority of the world's energy supply coming from the sun in the future. Musk added that he believes the outlook for the utility industry is positive, and he urged utility companies to help streamline the process of creating electric car charge station infrastructure.
Posted-In: Elon Musk PowerwallTop Stories Tech Best of Benzinga
View Comments and Join the Discussion!