Apple Pay May Expand To The UK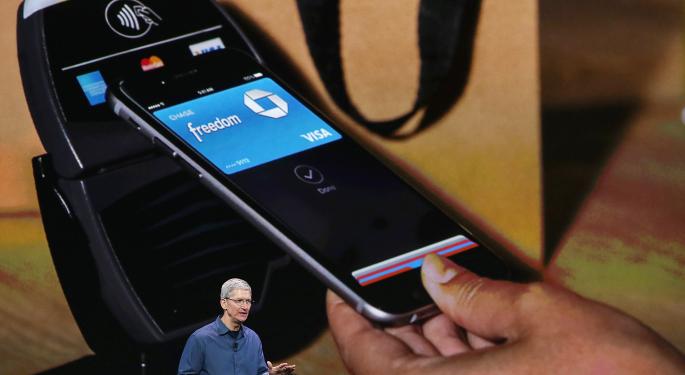 Some time in the next two months, Apple Inc. (NASDAQ: AAPL) will expand its Apple Pay product to the UK, according to reports from The Telegraph.
The announcement is expected as part of Monday's launch of the week-long Worldwide Developer Conference in San Francisco. 9to5mac also reported that Lloyds is a "planned launch partner," while Mastercard Inc (NYSE: MA) has indicated that it is ready when the tech giant decides to flip the switch.
Recently, Apple Pay has come under scrutiny by retailers for not driving enough customer adoption. That has led some retailers to consider it a luxury, rather than a necessity.
Related Link: Apple Music: 100 Million Subscribers?
In a May note on Apple Pay, analysts at Goldman Sachs said that the company needs to institute a better loyalty program for users in order to "change consumer behavior." Such a program may be debuted this week.
In addition to the UK, Apple is reportedly in talks to bring Apple Pay to Canada via its iOS 9 operating system in the fall and China at some point in the future.
Carl Icahn, an Apple shareholder, said last month that payments will generate Apple $3.3 billion in revenues by 2017. That compares to revenue expectations of $263 million this year.
Apple stock has increased more than 16 percent year-to-date, closing last week at $128.65.
View Comments and Join the Discussion!