Using 'Wisdom Of The Crowd,' Twitter Style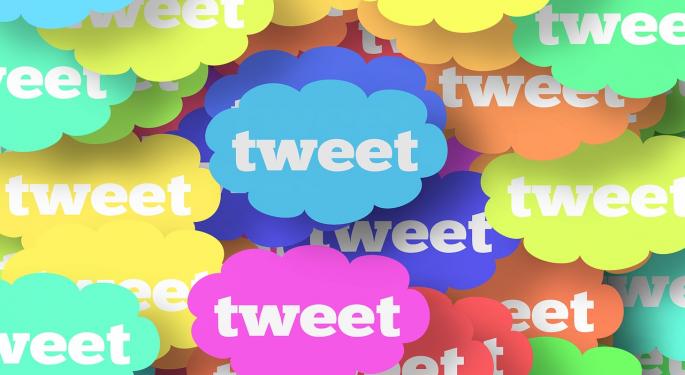 Igor Gonta has long believed in the "wisdom of the crowd," a concept based on the accuracy of the average opinion of a diverse group of people.
Now the Market Prophit CEO and entrepreneur has turned that belief into a first-of-its kind social media sentiment, smart beta index based on – of all things – Twitter Inc (NYSE: TWTR) chatter.
Benzinga spoke with Gonta about the company's unique new index (available on the Bloomberg Terminal) and its plans to create an ETF based on the product.
Related Link: Social Media Analytics: Crowd & Expert Sentiment On The Google-Twitter Acquisition, Crude Oil
Benzinga: What does this index do and how is it made up?
Igor Gonta: It tracks the 25 most frequently chatted-about stocks in social media, based on tweet volume.
Every quarter, we construct a basket of 25 such stocks based on what's been trending and hot from a pure conversational perspective on Twitter.
BZ: Is Twitter the only social media outlet from which you derive data?
IG: Yes, correct. Right now, it's only Twitter.
We decided to start with that platform, because it's a good, diverse, crowdsource location. We plan to add other social media sites and potentially even blogs as well.
BZ: What would you consider most significant about this index?
IG: The fact that matters the most, and why it's quote-unquote a 'smart data' index, is that during every three-month period, we rebalance the 25 components.
In other words, we go long or go short, depending on sentiment.
BZ: So, it's a long-short index?
IG: Yes, and that's purely based on sentiment crowd-sourced from the conversations on Twitter.
There is a concept called "wisdom of the crowd" – meaning, if you take the average of a diverse group of people, that average is likely to be very close to the actual answer for what you're trying to guess in the market.
We believe we've tapped into a diverse set of stock prognosticators in the specific stream of conversation we're following.
BZ: Does this mean you don't follow all conversations on Twitter?
IG: Right. The conversations we track are specifically by those people that are talking about buying and selling and expressing sentiment toward actual securities.
These are people who send tweets with the dollar sign and then the ticker, i.e., the $cashtag. For example, when somebody wants to specifically reference the stock price of Apple, they'll say "I am bullish," and they put $AAPL, the ticker of the security.
People who crowdsource with those kinds of conversations are not the same people who tweet about what they ate for breakfast. They're day traders, research analysts, retail investors and news sources.
BZ: How accurate has this social media sentiment-sourced index proven to be?
IG: Our index from inception, July 1, 2013, through May 8, 2015, was up 52 percent, versus the S&P, which was up 36 percent.
BZ: What are the traits of smart beta?
IG: Traditional ETFs are based on indices or stocks where the components are largely just purely market cap weighted. That's how the S & P 500 works.
Smart beta involves weighting by something other than market cap. It's just a different way to weight your index.
It could be equal weighted, weighted by momentum factors or weighted by other company metrics like dividends or cash flow or capex ratios.
Market Prophit's index is market-cap weighted as well, but we re-balance based on sentiment from the conversations on Twitter as calculated algorithmically by our proprietary natural language processing engine, which spits out a number for every tweet we track.
BZ: What can you share about that process?
IG: That number is on a scale of -1 to +1. Plus one is the most bullish; minus one is the most bearish. Then there is everything in between.
The sentiment weight, which we don't touch, is literally a machine we train.
BZ: What are some advantages of smart beta in general?
IG: People use smart beta because they believe weighing something other than market cap can potentially give you uncorrelated returns to the broad market.
Investors in an environment that has had a bull run for so long, with interest rates at zero, are clamoring for diversity and alternatives.
Most importantly, what they're clamoring for is to try to diversify their portfolio and not just correlate with the market.
BZ: Does Market Prophit stand alone with a sentiment-weighted index or are there others out there doing this?
IG: To my knowledge, I think I'm the first one to launch an index of this type that incorporates sentiment, crowdsourcing and big data analytics.
We think we're breaking ground here. We think we're launching something that is literally forging a path.
BZ: What's the timetable for an ETF launch?
IG: We've already started talking to some ETF sponsors. We've gotten some interest.
In the days and weeks to come, we're going to be expanding our conversational pool. We're very early (in this process).
Related Link: What Does Fintech, Chinese Social Media & Kyle Bass Have In Common? Renren
BZ: Why is the ability to isolate sentiment and provide big data to the everyday investor so important?
IG: (When you) isolate sentiment (you can) either invest in it or hedge it away, and protect against that risk factor.
Sentiment is a risk factor and there is no instrument in the market right now that allows you to hedge that factor away.
In addition, I think there's a need to democratize access to all these strategies that hedge funds employ. I always say, I want to give big data to the little guy.
At the time of this writing, Jim Probasco had no position in any mentioned securities.
Image Credit: Public Domain
View Comments and Join the Discussion!
Posted-In: Apple Igor GontaCrowdsourcing Top Stories Success Stories Exclusives Tech Interview Best of Benzinga