Friday's Jobs Report: What Experts Are Saying Ahead Of The Release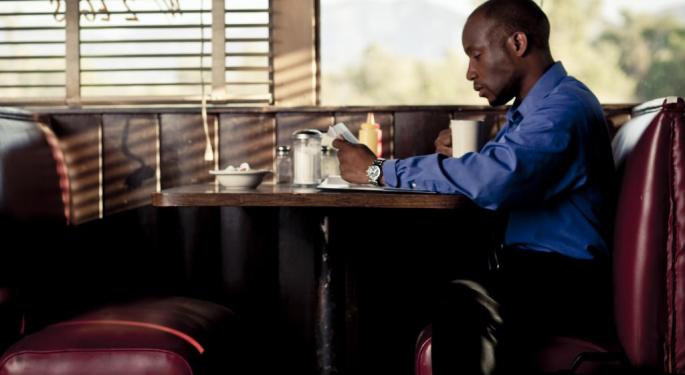 The U.S. Bureau of Labor Statistics will release its unemployment figures for the month of May on Friday at 8:30 a.m. EST. Consensus expectations are that the unemployment rate will remain at 5.4 percent, which is what it was after April, and that the U.S. will gain a net of approximately 225,000 jobs.
Benzinga talked to experts about the potential consequences of Friday's report.
Adam Sarhan, CEO Of Sarhan Capital
Sarhan highlighted three potential outcomes of the unemployment report.
This first possibility is that the numbers are in line with expectations. If this is the case, he said, the data will be a non-event. Sarhan said he believed people will continue to expect moderate economic growth -- "good but not great."
Alternatively, the jobs report could result in a "big beat," with job creation substantially higher and unemployment substantially lower than expected. According to Sarhan, this would cause significant movement in the value of the U.S. dollar, commodities, and equities.
Related Link: What To Expect From Tomorrow's Jobs Report
Additionally, he said a "big beat" would raise the probability of an interest rate hike by the Fed coming sooner than expected.
However, if the jobs report were to result in a "big miss," Sarhan noted a rate hike would likely be off the table for the rest of the year. He pointed to the fact that the economy actually contracted in the first quarter of 2015 and that we've yet to see consistently positive economic indicators this year. A greatly increased unemployment rate in May, he believed, would further cement beliefs that it is still too early to raise rates.
Sarhan sums up the coming figures as "another piece of the puzzle" for the Fed in determining monetary policy moving into the second half of 2015.
Tim Anderson, Managing Director At TJM Investments
Anderson doesn't expect the jobs report to have much of an impact on markets unless it presents a number that's a significant outlier from expectations. He said this is especially true now given "the volatility in the bond and foreign currency markets that we've seen over the past week."
Anderson added that the unemployment rate has become a largely meaningless metric because of the low labor force participation rate, which currently sits below 63 percent. According to him, it's clear that the economy isn't as healthy now as it was the last time unemployment was so low.
With regard to a potential rate hike, Anderson suggested paying close attention to average hourly earnings. He said growth in hourly earnings is key in order to bring inflation back up to the Fed's goal of 2 percent. If the inflation creeps closer to that target, he said the Fed would be more likely to move rates up by September.
JJ Kinahan, Chief Strategist At TD Ameritrade
Kinahan, meanwhile, doubts that the jobs report will be negative, especially given this week's positive ADP employment report and jobless claims report. He said it's "difficult to imagine" that the U.S. economy won't at least meet expectations of about 225,000 new jobs.
Particularly, Kinahan hopes to see job growth in the construction industry, as it would indicate a healthy real estate market.
The strategist is confident that Janet Yellen has made it clear the Fed will raise interest rates this year. "I don't know if the report tomorrow changes anything immediately."
Chris Martenson, Co-Founder Of Peak Prosperity
Martenson, lastly, actually expects that job growth will be significantly lower than expected. He predicts the BLS will report about 150,000 new employees across the economy.
Martenson highlighted the areas in which much of the job growth is expected -- bar-tending and waiting -- are extremely sensitive to consumer spending. Given that consumer spending was flat in April, he explained, one should not expect firms in the food and entertainment sectors to have taken many more workers onto their payrolls in May.
However, he does believe that there will be a sizable uptick in construction employment, as the housing sector has been expanding steadily. Martenson doesn't think it matters much whether the jobs report misses, meets, or beats expectations. "It'll be an opportunity to buy either way," he concluded.
Posted-In: Adam Sarhan Bureau of Labor StatisticsPreviews Econ #s Top Stories Economics Federal Reserve Trading Ideas Best of Benzinga
View Comments and Join the Discussion!