Benzinga's M&A Chatter for Monday June 1, 2015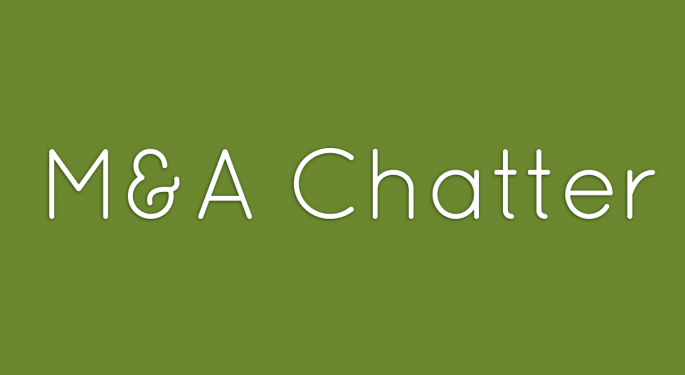 The following are the M&A deals, rumors and chatter circulating on Wall Street for Monday June 1, 2015:
Intel to Acquire Altera, $54/Share
The Deal:
Intel Corporation (NASDAQ: INTC) and Altera Corporation (NASDAQ: ALTR) announced Monday, an agreement under which Intel would acquire Altera for $54 per share in cash. The transaction is valued at approximately $16.7 billion.
The deal is expected to close in six to nine months.
Altera shares rose almost 6% Monday, to close at $51.68.
Microsoft to Acquire 6Wunderkinder
The Deal:
Microsoft Corp. (NASDAQ: MSFT) has agreed to acquire startup 6Wunderkinder GmbH, creator of the Wunderlist to-do list app, for $1 million to $2 million, according to a source reported by the Wall Street Journal. The app works on Windows, iOS and Android operating systems.
Microsoft shares rose $0.37 Monday, closing at $47.23.
Gannett Acquires 11 Media Organizations From Digital First Media
The Deal:
Gannett Co., Inc. (NYSE: GCI) announced Monday, that it has completed the acquisition of the remaining 59.36% interest in the Texas-New Mexico Newspapers Partnership that it did not own, from Digital First Media, through the assignment of Gannett's 19.49% interest in the California Newspapers Partnership and additional cash consideration.
Gannett now owns 100% of the Texas-New Mexico Newspapers Partnership and no longer has any ownership interest in California Newspapers Partnership.
Gannet shares rose $0.48 Monday, closing at $36.27.
View Comments and Join the Discussion!